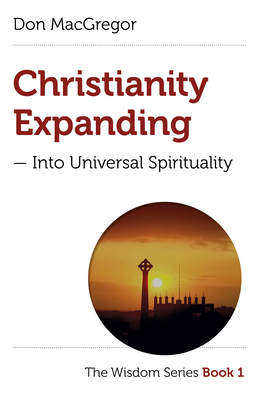 Christianity Expanding
Into Universal Spirituality (Wisdom #1)
Paperback

* Individual store prices may vary.
Description
."All religions evolve, and Christianity is evolving rapidly today. Don MacGregor's book is a lucid and thoughtful guide to this process, and shows how the essential core teachings of Christianity can be disentangled from unhelpful interpretations that stand in the way of a living Christian faith in the twenty-first century. I found this book stimulating and inspiring. It is also admirably brief and clear." Dr Rupert Sheldrake, biologist and author of A New Science of LifeChristianity Expanding - Into Universal Spirituality takes us on a whistle-stop tour of the areas that need updating if Christianity is to flourish in the 21st Century. New science, ecological concern and the need for new theology are all converging into a maelstrom of change. With broad brushstrokes on a big canvas, a path of personal transformation is charted, drawing on the mysterious Perennial Wisdom teachings that have survived down the ages. Pulling no punches, Don MacGregor delves into typically taboo subjects such as reincarnation, drawing a distinction between Jesus and the Christ. This dynamic first volume of The Wisdom Series is an initial outline of areas that demand ongoing exploration.
Christian Alternative, 9781789044225, 120pp.
Publication Date: November 1, 2020
About the Author
Don MacGregor is an author, retired Anglican Priest, former science teacher and university chaplain. He has embarked on a series of books which seek to expand the theological framework of Christianity into the Perennial Philosophy cosmology, thus making it a more universal spirituality. Don is passionate about finding a new way forward for Christianity which incorporates twenty-first century science and worldviews. He lives in Haverfordwest, UK.
or
Not Currently Available for Direct Purchase