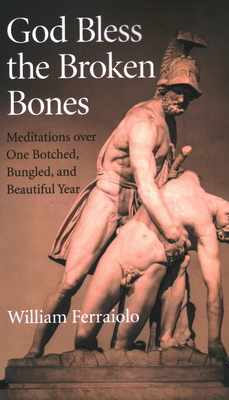 God Bless the Broken Bones
Meditations Over One Botched, Bungled, and Beautiful Year
Paperback

* Individual store prices may vary.
Description
You can learn a lot about yourself if you pay careful attention for one full year. Here are 365 daily meditations that, through their brutal confessionalism, will unearth the stoic in you. God Bless the Broken Bones won't tickle your ears with pleasant words. Instead what you'll find is a year of one man's seemingly uncensored thoughts, fears, frustrations, longings, gratitude, and self-exhortations. Raw yet eloquent, William Ferraiolo's musings reveal the daily challenges to living a life of equanimity and honor, and why there's no worthier goal. At times this book might offend you. It will certainly challenge you. And if you're willing, it might change you. I recommend you see for yourself. Seth J. Gillihan, PhD, author of Retrain Your Brain: Cognitive Behavioral Therapy in 7 Weeks.
O-Books, 9781789044843, 392pp.
Publication Date: October 1, 2020
About the Author
William Ferraiolo received a Ph.D. in philosophy from the University of Oklahoma in 1997. Since then, he has taught philosophy at San Joaquin Delta College in Stockton, California. A practicing Stoic, Ferraiolo has published numerous articles in a variety of professional and academic journals. God Bless the Broken Bones is William's fourth book to be published by O-Books. His first book, Meditations on Self-Discipline and Failure, was published in 2017. William lives in Lodi, CA.