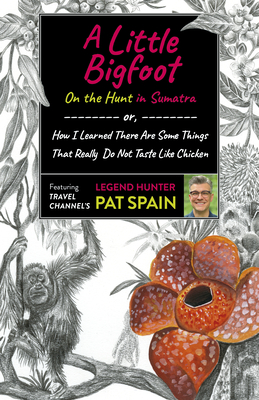 A Little Bigfoot
On the Hunt in Sumatra: Or, How I Learned There Are Some Things That Really Do Not Taste Like Chicken
Paperback

* Individual store prices may vary.
Description
In the course of Pat Spain's time filming wildlife-adventure TV series, he's gotten pretty used to being uncomfortable. There've been rabid raccoon attacks, days spent in the baking equatorial African sun, and consumption of many revolting local delicacies like fermented mare's milk. And then there was Sumatra. On the Hunt in Sumatra details the two weeks Pat spent soaking wet with a National Geographic film crew tracking the legendary Orang Pendak through the forests of Indonesia, while tigers, leeches, amorous orangutans, Coldplay fans, a guide named Uncle Happy, two shaman, car demons, and rogue cameramen tracked them. It is, without a doubt, the most inhospitable terrain Pat's ever encountered, with the highest likelihood of grievous bodily harm. But the payoff is the theory he reached about Orang Pendak, and a 5 a.m. EDM Tai Chi party.
6th Books, 9781789046052, 128pp.
Publication Date: January 1, 2023
About the Author
Pat Spain is a wildlife biologist, cryptozoologist, biotech expert, TV presenter, key-note speaker, author, and cancer survivor with a passion for adventure. His latest adventure TV series, Legend Hunter - 7 x 60min episodes - aired on Travel Channel in 2019 with 5-10 million viewers per week. He lives in North Andover, Massachusetts.