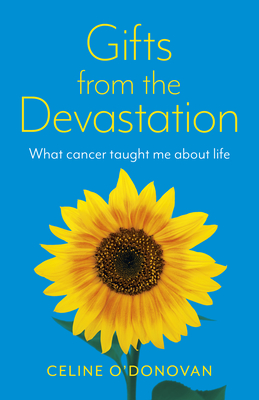 Gifts from the Devastation
What Cancer Taught Me about Life
Paperback

* Individual store prices may vary.
Description
Can our devastations be opportunities for great transformation? Moments of devastation will visit everyone in life. Whether it is grief, illness, loss, or some other trauma, no one escapes. In Celine's case, one of those moments was her diagnosis with breast cancer in 2016. As you join Celine on her journey from getting this life-changing news, to surrendering and ultimately choosing a path of transformation, you are prompted to reflect on your own life and how your personal traumas have shaped you into the person you are today. You will discover that every crisis is an opportunity to evolve, and that despite the inevitable pain that comes with growth, life really is happening for you, not to you. It is always unfolding for your highest good. Packed full of practical tips and insights, this book is a reminder that you are not just a helpless victim of life. You are a powerful creator and life is actually trying to help you grow into the fullest version of you.
O-Books, 9781789046441, 232pp.
Publication Date: April 1, 2022
About the Author
Following a successful, international career in marketing, Celine O'Donovan is now a published author. This change in direction was accelerated by personal lessons Celine learned after her diagnosis with breast cancer and its aftermath. Celine is living proof that crisis can be the impetus to grow, find meaning and ultimately enjoy a better life. She is a native of Galway city on the west coast of Ireland.