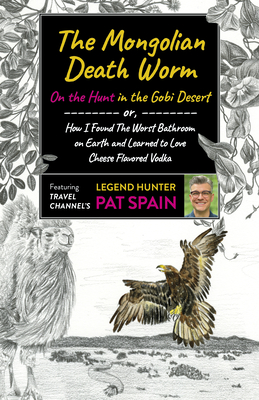 The Mongolian Death Worm
On the Hunt in the Gobi Desert: Or, How I Found the Worst Bathroom on Earth and Learned to Love Cheese Flavored Vodka
Paperback

* Individual store prices may vary.
Description
Pat Spain is not a very good dancer. Nor is he a person used to wearing bikini briefs, or wrestling in front of hundreds of nomads and an international TV audience. He is certainly not a person you would expect to find wearing said bikini briefs while dancing in front of said audience, but here we are: On the Hunt in the Gobi Desert. Pat and a National Geographic film crew are searching for the truth behind stories of the Mongolian Death Worm, and to crack this legend Pat will have to wrestle a giant while risking indecent exposure, brave the worlds' most disgusting long-drop bathroom, eat and drink toxic 'delicacies', wrangle a very jumpy electric eel and testy spitting cobra, avoid the temptation to smuggle archeological artifacts and deal with bed-bug and camel-tick infestations while they traverse the least densely populated country in the world, Mongolia.
6th Books, 9781789046502, 144pp.
Publication Date: January 1, 2023
About the Author
Pat Spain is a wildlife biologist, cryptozoologist, biotech expert, TV presenter, key-note speaker, author, and cancer survivor with a passion for adventure. His latest adventure TV series, Legend Hunter - 7 x 60min episodes - aired on Travel Channel in 2019 with 5-10 million viewers per week. He lives in North Andover, Massachusetts.