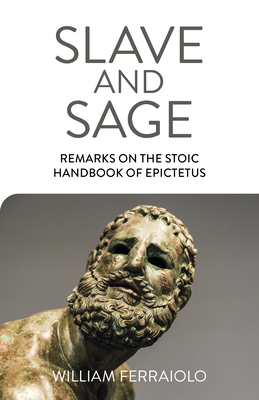 Slave and Sage
Remarks on the Stoic Handbook of Epictetus
Paperback

* Individual store prices may vary.
Description
'Epictetus Handbook is the best extant account of ancient Stoicism, and it still ranks as one of the most useful self-help manuals in today's world. Through relatable contemporary applications and accessible explanations, Dr. Ferraiolo guides the reader reliably through all of the sayings in the Handbook to bring out their core meaning, which can be obscured by references to ancient social customs, events and philosophers.' Lou Matz, Professor of Philosophy, University of the PacificIn Slave and Sage William Ferraiolo distills and reanimates the original spirit of Epictetus' Enchiridion for a 21st century audience, and shows how the lessons Epictetus offered are more relevant than ever to modern life. Much like the original stoics, Ferraiolo's work prides itself on a combination of erudition and accessibility, to teach and counsel every reader. This little gem of philosophical insight will help you dig down into the best wisdom of the ancient Stoic philosopher, Epictetus, and see how it can apply powerfully in our lives today. Highly recommended. Tom Morris, author of The Stoic Art of Living.
O Books, 9781789046717, 208pp.
Publication Date: June 1, 2021
About the Author
William Ferraiolo received a Ph.D. in philosophy from the University of Oklahoma in 1997. Since then, he has taught philosophy at San Joaquin Delta College in Stockton, California. A practicing Stoic, Ferraiolo has published numerous articles in a variety of professional and academic journals. His bestselling first book, Meditations on Self-Discipline and Failure, was published in 2017. William lives in Lodi, CA.
or
Not Currently Available for Direct Purchase