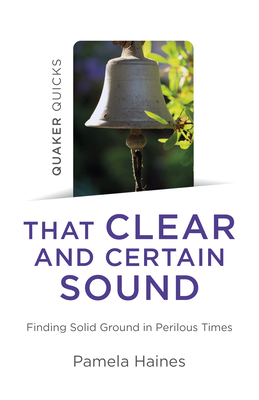 Quaker Quicks - That Clear and Certain Sound
Finding Solid Ground in Perilous Times
Paperback

* Individual store prices may vary.
Description
'This book is like a refreshing rain--a shower of meditations on life-lessons presented so deftly and gently by the author that their true depth and breadth may at first be overlooked. Behind the clear and certain language in which Pamela Haines' voice comes across, lies a worldview deeply rooted in the Quaker ethos. Yet her stories and reflections, and the questions she ponders, will resonate with all who work to bring the healing of "right relationship" to the human world and to earth's whole commonwealth of life.' Keith Helmuth, Author of Tracking Down Ecological guidance: Presence, Beauty, SurvivalStay alert to the ring of truth and reach for solid ground in all aspects of life. John Woolman, a colonial Quaker, advises us to "Dig deep. ...Carefully cast forth the loose matter and get down to the rock, the sure foundation, and there hearken to the Divine Voice which gives a clear and certain sound." What if moving ever closer to what rings true were the central principle for organizing our lives? There may be no work that's harder - or more worth doing. And maybe, as we keep trying, it will get less hard - and we'll hear that ring of truth in our lives more and more. This collection of meditations on being alive in these wonderful and perilous times encourages us to stay alert to the sound of truth even in the most unlikely places, to reach for solid ground in all aspects of our lives, and to stretch from there toward lives of greater connection and integrity.
Christian Alternative, 9781789047653, 80pp.
Publication Date: December 1, 2021
About the Author
A student of economics since childhood, Pamela Haines has spent a lifetime gathering experience, knowledge and perspective to speak with authority on how economic theories and structures shape our lives and challenge our values. She has written pamphlets and magazine articles and lead workshops based on demystifying connections between economics and daily life, while challenging people to claim their power and act on their values. Pamela lives in Philadelphia, Pennsylvania, USA.