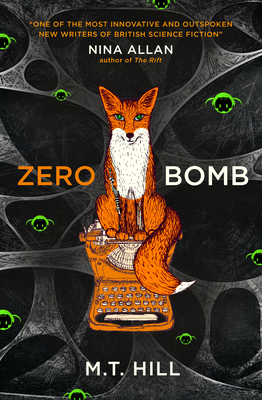 Zero Bomb
Paperback

* Individual store prices may vary.
Other Editions of This Title:
Mass Market (1/2/2080)
Description
Shortlisted for Neukom Literary Arts Award for Speculative Fiction, from Philip K. Dick Award-nominated author M.T. Hill, Zero Bomb is a startling science fiction mystery that asks: what do we do when technology replaces our need to work?

The near future. Following the death of his daughter Martha, Remi flees the north of England for London. Here he tries to rebuild his life as a cycle courier, delivering subversive documents under the nose of an all-seeing state.

But when a driverless car attempts to run him over, Remi soon discovers that his old life will not let him move on so easily. Someone is leaving coded messages for Remi across the city, and they seem to suggest that Martha is not dead at all.

Unsure what to believe, and increasingly unable to trust his memory, Remi is slowly drawn into the web of a dangerous radical whose '70s sci-fi novel is now a manifesto for direct action against automation, technology, and England itself.

The deal? Remi can see Martha again - if he joins the cause.
Praise For Zero Bomb…
"Zero Bomb is a bold and alarming vision of an automated future and those who might resist it. " Foreword Magazine

"A rich tapestry of literary science fiction that combines metafiction, mystery, and a possible future that is at once terrifying and invigorating." --Booklist

"Fresh, insightful and powerful....If Nick Harkaway had collaborated with Dave Hutchinson, the result might resemble what Matt "M.T." Hill has accomplished solo." - Locus Magazine

"Conceived at the height of an unprecedented national crisis, M.T. Hill's Zero Bomb is a violent, vital novel about virtue, loyalty, decency and love, even as we watch these timeless human attributes dissolve in the stomach acids of the World Machine. Think E.M. Forster's The Machine Stops, written for the Westworld age, and you may just gain a fingerhold on this crazed colt of a book." --Simon Ings, author Wolves and The Smoke

"The fragmented story of Remi, a traumatised man struggling to remake his life, reminds me in its surrealism of Tom McCarthy's Remainder. Intense and well observed, Zero Bomb delves into our fears and distrust of technology, and our political anxieties stoked by twenty-four hour news." --Anne Charnock, author of Dreams Before the Start of Time

"Vivid and richly imagined, Zero Bomb is a passionate examination of who we are and a warning of what we could shortly become. I couldn't put it down." --Catriona Ward, author of Rawblood

"Zero Bomb is a novel on the bleeding edge of desperate times. Delicious shivers of strangeness an allotment of limbs, a fox that is also a surveillance device bring an old magic to a future Britain broken by zero hours contracts, algorithmic bosses, and 24/7 alienation. Using a bold structure, the novel reveals its mysteries across different facets of a compelling near-future North." --Matthew De Abaitua, author of The Red Men

"An ambitious novel that effortlessly combines speculation, social commentary, metafiction, and a compulsively readable story. Thrilling, audacious and timely, M. T. Hill's visions of the future feel closer to reality than they should." --Helen Marshall, author of The Migration

"Hill is a true innovator, a brilliant prose stylist and a writer with a high level of invention. Zero Bomb mixes intense human drama and political struggle to show that great SF exists as much on the streets of today s Britain as it does in the stars." --Jeff Noon, author of Vurt

"A beautifully-written and profoundly dislocating book about a chillingly-plausible near future and its discontents. Absolutely essential reading." --Dave Hutchinson, author of Europe in Autumn
Titan Books, 9781789090017, 304pp.
Publication Date: March 19, 2019
About the Author
M.T. Hill grew up in Tameside, Greater Manchester, and now lives on the edge of the Peak District with his wife and sons. He is the author of Zero Bomb, which was shortlisted for the Neukom Literary Arts Award for Speculative Fiction, The Folded Man and 2016 Philip K. Dick Award nominee Graft.
or
Not Currently Available for Direct Purchase