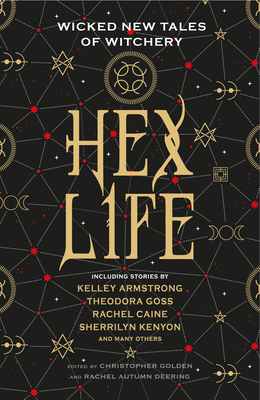 Hex Life
Wicked New Tales of Witchery
Hardcover

* Individual store prices may vary.
Other Editions of This Title:
Paperback (11/10/2020)
Description
Includes 'How to Become a Witch Queen' shortlisted for the Shirley Jackson Award.
Brand-new stories of witches and witchcraft written by popular female fantasy authors, including Kelley Armstrong, Rachel Caine and Sherrilyn Kenyon writing in their own bestselling universes!

These are tales of witches, wickedness, evil and cunning. Stories of disruption and subversion by today's women you should fear. Including Kelley Armstrong, Rachel Caine and Sherrilyn Kenyon writing in their own bestselling universes.

These witches might be monstrous, or they might be heroes, depending on their own definitions. Even the kind hostess with the candy cottage thought of herself as the hero of her own story. After all, a woman's gotta eat...

EIGHTEEN TALES OF WITCHCRAFT FROM THE MISTRESSES OF MAGIC

ANIA AHLBORN
KELLEY ARMSTRONG
AMBER BENSON
CHESYA BURKE
RACHEL CAINE
KRISTIN DEARBORN
RACHEL AUTUMN DEERING
TANANARIVE DUE
THEODORA GOSS
KAT HOWARD
ALMA KATSU
SHERRILYN KENYON
SARAH LANGAN
HELEN MARSHALL
JENNIFER MCMAHON
HILLARY MONAHAN
MARY SANGIOVANNI
ANGELA SLATTER

BRING OUT YOUR DREAD
Praise For Hex Life: Wicked New Tales of Witchery…
"a spellbinding anthology of witchin' stories" - Barnes & Noble SFF Blog

"Hex Life is alternatively filled with gore and glory, and is a suitably mixed cauldron of styles and tones, but is vastly entertaining from start to finish" - Tor.com

"Highly recommend this one...If you're easily creeped out, read before dark and maybe not on Halloween." - Roarboats 

"No two consecutive stories are alike, and Golden and Deering assembled this antho in such a way that each successive narrative is different enough from the preceding effort that it really keeps things fresh and makes you wonder what's up next. It's a nicely unpredictable read" 4* - High Fever Books 

 "Anyone looking for a Halloween treat of witch stories in a variety of genres, styles and a narratives will take delight in immersing themselves in Hex Life" - Novel Lives 

"a wide variety of witches and magic: magic passed down from generation to generation, women who trade power for liberation, magic that is uncontrollable and untamed, magic that is oppressed. The language and the storytelling: all the stories are extraordinary" 5* - Her Campus 

"A simply gorgeous volume, from the intricate dust jacket to the interior illustrations. Definitely a perfect read for the Halloween season" - The Frumious Consortium 

"So many of these stories are powerful and magical in their own right, and that makes this book an excellent addition to any horror-themed bookshelf." - Bookish Beth 

"These 18 tales enchant you with kind souls and snappy spinsters and indulges the tropes with not-so-nice witches...I recommend this to those who enjoy Practical Magic" - Haunted by Deadlines 

"such a good author list, you can bet each story in this collection will be amazing" - SYFY

"a great selection for anyone who wants to get a jump-start on Halloween" - Black Gate 

"a diverse collection which explores every corner of witchcraft fiction" - Mystery Tribune 

"Takes classic tropes of witchcraft fiction and infuses them with the feminist perspective they always deserved. With different authors interpreting the theme in different ways, you'll find a myriad of charms in this witchy tome." - Den of Geek 

"impactful and haunting...a must-read for horror fans" 9/10 - But Why Who?

"The stories were wonderful and I found some new authors to read...This is going to be a yearly re-read for me" 4.5* - Misadventures of a Reader 

"amazing writers" - Reading Glasses Podcast 

"will undoubtedly keep you sufficiently spooked out" - Warrendale (Detroit) Blog Review 

"For readers seeking stories to get them into the spirit of Halloween, or those looking for an anthology of strong—and frequently scary—female characters to dive into, Hex Life is worth the time."  -Booklist

"a wonderfully curated collection of stories" - Girl Who Reads 

"Excellent and highly compelling...you'll be captivated and spellbound by the stories in this anthology" - Risingshadow
Titan Books, 9781789090345, 384pp.
Publication Date: October 1, 2019
About the Author
Kelley Armstrong is a #1 New York Times best-selling author who lives in rural Ontario, Canada, with her family. She is the author of the bestselling Women of the Otherworld series; the highly acclaimed Darkest Power young adult series and two adventure novels about a hitwoman, Exit Strategy and Made to be Broken.

Rachel Caine is the New York Times, USA Today, and #1 internationally bestselling author of more than fifty novels, including the #1 smash hit bestselling thriller Stillhouse Lake, the internationally bestselling Morganville Vampires series, the Great Library series, the Weather Warden series, the Outcast Season series, the Revivalist series, and the acclaimed YA novel Prince of Shadows.

Sherrilyn Kenyon's books appear regularly at the coveted #1 bestselling spot. This extraordinary bestseller continues to top every genre she writes. Her current series include: The Dark-Hunters, The League, Chronicles of Nick and Beladors. Since 2004, she has placed more than 80 novels on the New York Times list in all formats including manga.