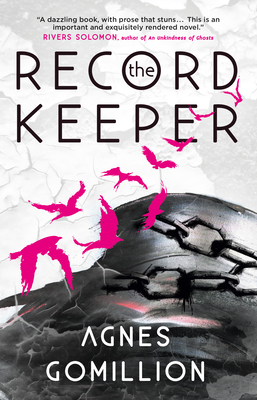 The Record Keeper
Paperback

* Individual store prices may vary.
Description
"The Record Keeper is empathy through fiction."
- Actor, Comedian and Film Producer Wayne Brady on The Record Keeper which he plans to bring to the Silver Screen.
The Record Keeper is a visceral and thrilling near-future dystopia examining past and present race relations.

After World War III, Earth is in ruins, and the final armies have come to a reluctant truce. Everyone must obey the law--in every way--or risk shattering the fragile peace and endangering the entire human race.

Arika Cobane is on the threshold of taking her place of privilege as a member of the Kongo elite after ten grueling years of training. But everything changes when a new student arrives speaking dangerous words of treason: What does peace matter if innocent lives are lost to maintain it? As Arika is exposed to new beliefs, she realizes that the laws she has dedicated herself to uphold are the root of her people's misery. If Arika is to liberate her people, she must unearth her fierce heart and discover the true meaning of freedom: finding the courage to live--or die--without fear.
Praise For The Record Keeper…
"Gomillion has written a brutally honest, often heartbreaking novel that examines slavery and racism while offering redemption and hope." - The Guardian (Best Recent Science Fiction)

"This intellectually rich, emotional, and ruthlessly honest confrontation of racism proves Gomillion is a critically important new voice. "  -- Publishers Weekly Starred Review & Best Books 2019

"The Record Keeper—with its absorbing developments and clarion call to freedom—will hold its readership in thrall and have them waiting expectantly for the follow-up. "  - Foreword Magazine Starred Review

"In a sea of dystopian, post-apocalyptic future tales, The Record Keeper stands out. Gomillion's background and advocacy shines through in her debut novel, which paints a stark picture of a divided, authoritarian country that became a world power under the guise of maintaining peace, while calling attention to the very real dark history and current racial problems in the real world."  - Booklist 

"Here's a near-future dystopia that does what sf does best: it removes us from the here-and-now so we can view ourselves from a fresh perspective....The Record Keeper is a story about freedom and the conviction to recognize it and fight for it." - Kirkus Reviews (Best of the Month) 

"Gomillion writes with the elegance and insight that pervades Octavia E. Butler's work. Arika Cobane is as engaging, flawed, and fully human as Dana Franklin of Kindred or Lauren Olamina of Butler's Parable novels. Given that Butler's work remains unfinished, its author gone too soon, Agnes Gomillion's arrival feels like deliverance. Here is a writer whose work will survive genre fads and shifting cultural attention to reveal persistent, crucial truths." - New York Journal of Books

"A fierce and absorbing tale of a heroine finding her own power, set in an exquisitely crafted world...The Record Keeper deserves a place on your must-read list."  Christina Henry, author of Alice

"A spellbinding, hypnotic read. Highly imaginative, The Record Keeper is an absolute triumph." - Irenosen Okojie, award-winning author of Butterfly Fish

"The Record Keeper is a dazzling book, with prose that stuns and a story that captivates from start to finish. This is an important and exquisitely-rendered novel. Both timely and timeless, The Record Keeper is one you won't want to miss." Rivers Solomon, author of An Unkindness of Ghosts 

"The Record Keeper is to embark on a journey of hard truths and revelation. You will grieve and rage as Gomillion unravels the secrets of past and future." -  Olivia A. Cole, author of A Conspiracy of Stars

"The Record Keeper grips you from the first page, sucking you into a deftly crafted dystopian future where liberation is barely even a dream. This moving story of a young woman's struggle against mental and physical bondage, tells an important new-old tale and challenges us to begin the fight for freedom in our community and in ourselves." 
- L.  Penelope, award-winning author of Song of Blood & Stone

"a near-future dystopia that does what sf does best: it removes us from the here-and-now so we can view ourselves from a fresh perspective." - Kirkus Reviews Best of the Month

"Powerful... Brave and thought-provoking." - SFX

"a worthy addition to an exciting sub-genre" - Black Gate

"Gomillion's afro-futurist worldbuilding is fascinating and stark" - Barnes & Noble SFF Blog

"This book is a challenge. This book is a call for change. This book is stunning." - Travelling My Shelves

"its premise, and the style in its telling, are laudable" - Angry Angel Books

"one of those stories that are going to stay with me for a while. I want to push this book into everyone's hand to read" - The Misadventures of a Reader

"Fans of books like Dread Nation and the Hunger Games series may enjoy this book, I encourage people to pick it up and give it a try. It's thought-provoking and unique." - Mixed Girl Nerd

"a story of fighting for equality, of standing up to oppressors no matter how strong they might be, and, maybe most importantly, a person facing not only the truth of their beliefs but what their beliefs and the fear to stand up for what they believe is right can do to those around them" - Looking Glass Reads 

"It is thematically deep, emotionally rich and crafted well, but more than that–it really needs to exist. Gomillion's terrifying world isn't fiction, not really–it is an honest and raw account of racism past and present.... In the many years I've been reviewing for Interzone, I've read nothing as essential, unafraid and enriching as Gomillion's debut." -Barbara Melville, Interzone magazine 

The Record Keeper is empathy through fiction…Sometimes it's easier for people to learn about social constructs through fiction instead of having it pushed in their face in the news. So I think it's very important to read this just as a work of art but also as a work of art that basically teaches you how things were slash are, but through such a great world-building tool… As a black kid growing up in Tangelo Park in the '70s and '80s, we weren't taught to dream that certain things, even in sci-fi could be our spaces as well. Those are thought of traditionally as white spaces. Being able to read a book written by someone who looks like me, who comes from a place like me, who thinks like me, and creates this world and shows that yes, in a post-apocalyptic future, guess what? There can be black people. There can be a protagonist of color. It touched me so much because it's not only good for me, that little kid reading books he wasn't represented in, but for my daughter and my grandkids." 
– Actor, Comedian and Film Producer Wayne Brady on The Record Keeper which he plans to bring to the Silver Screen.

"A razor-sharp piece of political YA, set in a postWWIII world in whichhumanity has been divided into factions. You're drawn in with familiar genre trappings before Gomillion pulls back the veil, and this is gripping, powerful stuff." - SciFiNow - Best Books of 2019

"It's a story born out of the author's personal journey, deep-rooted in spirituality and social activism. And it's a story that is remarkably prescient." -Lake Mary Magazine
Titan Books, 9781789091151, 464pp.
Publication Date: June 18, 2019
About the Author
Agnes is a speaker and writer based in Seminole, Florida, where she lives with her husband and two children. Homegrown in the Sunshine State, Agnes studied English Literature at the University of Florida before transitioning to Levin College of Law, where she earned both a Juris Doctorate and Legal Master degree. She's a voracious reader of the Africa-American literary canon and a dedicated advocate for marginalized people everywhere.