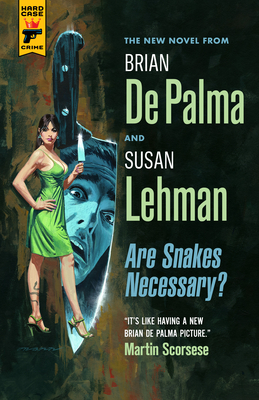 Are Snakes Necessary?
Paperback

* Individual store prices may vary.
Other Editions of This Title:
Hardcover (3/17/2020)
Description
"It's like having a new Brian De Palma picture." - Martin Scorsese, Academy Award-winning director



FROM THE DIRECTOR OF SCARFACE AND DRESSED TO KILL… A FEMALE REVENGE STORY

When the beautiful young videographer offered to join his campaign, Senator Lee Rogers should've known better. But saying no would have taken a stronger man than Rogers, with his ailing wife and his robust libido. Enter Barton Brock, the senator's fixer. He's already gotten rid of one troublesome young woman -- how hard could this new one turn out to be?

Pursued from Washington D.C. to the streets of Paris, 18-year-old Fanny Cours knows her reputation and budding career are on the line. But what she doesn't realize is that her life might be as well…
Praise For Are Snakes Necessary?…
"It's like having a new Brian De Palma picture." – Martin Scorsese, Academy Award-winning director

"Brilliant, lurid, twisty fun…compulsively readable and fiendishly constructed." – David Koepp, screenwriter of Jurassic Park

"One of the world's greatest filmmakers has helped produce a fast-moving page turner, breathlessly paced…irresistible for any De Palma fan." – Bret Easton Ellis, author of American Psycho

"lurid and pulpy goodness" - Associated Press  

"Deliciously deceptive....right at home in a De Palma movie (something in the mode of Dressed to Kill or Body Double)...a wonderful, immensely satisfying thriller." -- Booklist Starred Review

"A pastiche of hard-boiled crime fiction that doesn't scrimp on the lurid pleasures of the genre."  - The Washington Post

"This is De Palma echoing Hitchcock yet again, just as he's done so many times on screen." - Mystery Tribune 

"A doozy...With this inventive, fast-paced page turner in your hands you will also be meeting your next fun and exciting read." - Cinema Retro

"A good read for an airplane ride or your first day on the beach." - Bookgasm

"a high-octane political thriller...Fans of De Palma's movies know what to expect: suspense, thrills, and a surprising conclusion!"- George Kelley blog review


"Fans will no doubt relish all the things in it that they have come to know and love from his films [...including] a wild finale that practically unfolds in slow-motion on the page, in the best possible way. - Roger Ebert.com
"moves like a shot" - RogerEbert.com 

"Combines conspiracy and political intrigue with Hollywood hubris... acolytes of De Palma's work would be remiss not to add a copy of Are Snakes Necessary? to their pulp fiction libraries" - Adventures in Poor Taste 

"239 pages of sick — and welcome — escapism." - Head Butler

"This naughty pulp cocktail goes down deliciously easy." - Slant Magazine 

"Brilliant plotting, breathless pacing... this is a must-read for noir fans" - The Crime Review

"Many of us are looking for a fast-paced, escapist page-turner that will help us tear our eyes away from the spiraling numbers on that Johns Hopkins map. Early reviews suggest that Are Snakes Necessary?, the first novel by Brian De Palma and his partner, Susan Lehman, is just the ticket. So far, critics agree that the blurb on the cover from Martin Scorsese is no lie: "It's like having a new Brian De Palma picture."  - The Criterion

"De Palma at his raunchiest, but it is also deeply moral, as his raunchiest films have been." - Electric Ghost


"This swift page-turner left me cackling with delight right through to its epilogue, the final twist being one of those easily predicted developments that De Palma allows you to savor for the whole time you can see it coming. Maybe not exactly "Necessary," but enormously enjoyable all the same. "  - WBUR The ARTery
"It reads like a De Palma movie you're watching in your head." - WBUR The ARTery
"To quote my friend the late, great Jim Ridley's review of De Palma's glorious 2002 "Femme Fatale," it is "the work of a happy, horny man." - WBUR The ARTery 

"ARE SNAKES NECESSARY? is controlled chaos. It's fun, startling, funny in spots and not so funny in others.... This is a quick, smart read that will leave you wanting more from this collaborative writing team."   -Book Reporter
Hard Case Crime, 9781789091458, 240pp.
Publication Date: July 13, 2021
About the Author
BRIAN DE PALMA is the world-famous director of more than thirty films, including Carrie, Scarface, The Untouchables, Dressed to Kill, Body Double, Blow Out, and the original Mission: Impossible. The subject of the 2015 documentary De Palma, he is considered one of the most accomplished filmmakers of the last fifty years, a peer to directors such as Steven Spielberg, Francis Ford Coppola, and Martin Scorsese and an inspiration to next-generation directors such as Quentin Tarantino.

SUSAN LEHMAN is a former editor of the New York Times and author whose writing has appeared in the Washington Post, The Atlantic Monthly, Vogue, The New Yorker, and Spy magazine. An attorney by training, she also served as communications director at the Brennan Center for Justice.