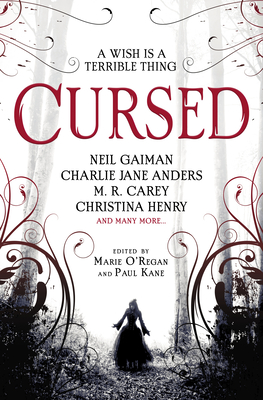 Cursed
An Anthology
Paperback

* Individual store prices may vary.
Other Editions of This Title:
Mass Market (11/9/2021)
Description
Twenty curses, old and new, from bestselling fantasy authors such as Neil Gaiman, Karen Joy Fowler, Christina Henry, M.R. Carey and Charlie Jane Anders.

ALL THE BETTER TO READ YOU WITH

It's a prick of blood, the bite of an apple, the evil eye, a wedding ring or a pair of red shoes. Curses come in all shapes and sizes, and they can happen to anyone, not just those of us with unpopular stepparents...

Here you'll find unique twists on curses, from fairy tale classics to brand-new hexes of the modern world - expect new monsters and mythologies as well as twists on well-loved fables. Stories to shock and stories of warning, stories of monsters and stories of magic.

TWENTY TIMELESS FOLKTALES, NEW AND OLD

NEIL GAIMAN
JANE YOLEN
KAREN JOY FOWLER
M.R. CAREY
CHRISTINA HENRY
CHRISTOPHER GOLDEN
TIM LEBBON
MICHAEL MARSHALL SMITH
CHARLIE JANE ANDERS
JEN WILLIAMS
CATRIONA WARD
JAMES BROGDEN
MAURA McHUGH
ANGELA SLATTER
LILLITH SAINTCROW
CHRISTOPHER FOWLER
ALISON LITTLEWOOD
MARGO LANAGAN
Praise For Cursed: An Anthology…
"A magical, mythical, mystical collection that should appeal to fans of dark fables and traditional folk horror." - Den of Geek

"This anthology should satisfy most fantasy readers and is well worth a look." - Booklist 

"These stories are by turns eerie, grotesque, and delightful... Readers won't have to be Brothers Grimm fans to appreciate this dark mélange." - Publishers Weekly Review

"The editors have assembled a fantastic collection here, one that offers an array of talent and is packed with stories that are all worthy of a return visit... Certainly lives up to and surpasses expectations." - Starburst Magazine Revew

"Puts new spins on old favorite stories and tropes, as well as offers a few completely new takes on the concept." - Book Riot

"Skin-crawling, tooth-grinding scary and sensuous... an excellent collection whose unforgettable, spooky images invoke the magic of daily life." - Foreword Magazine Review

"A strongly put together compilation, with very solid qualities... Really does achieve exactly what it set out to do." - The Bookbag Review

"Every story selected for inclusion here is of incredibly high quality, delicious and moreish, provoking in the reader a compulsion to keep turning the pages until the book is complete. A compulsion strong enough to be a curse? Perhaps. You'll need to buy a copy and find out for yourself." - A Set the Tape Review

"Enchanting, spellbinding, gruesome and funny but seldom dull we give Cursed a 666/666." - Horror Hot House

"A masterpiece in its editorial storytelling." - Her Campus

"I enjoyed the twists and darkness in the stories and I will happily reread a few of them in the future." - A Novel Purpose Review

"A really interesting mix of fairy tale, horror, and urban fantasy... A really well put together collection!" - A Cat, A Book, and a Cup of Tea

"A wonderful collection of stories." - Lucy's Novel Purpose

"A solid collection... The overall vibe of this book is really dark & creepy, and in addition to the stories by authors I love, it was a great introduction to some new-to-me authors!" - Grimdark Dad Review

"The book is packed with great tales, and some amazing authors. Whatever style that you enjoy, or writers that you like, is sure to be met here. The book has something for everyone, and continues the tradition of Titan producing some of the best anthology books around." - Trans-scribe Review

"No matter what your reading preference there will be something here for you... Each author really did fulfil the brief though and I very much enjoyed how diverse the ideas were, be it taken from existing mythology or through an entirely fresh approach." - Paperbacks & Pinot Review

"I really enjoyed this story collection... This anthology is defiantly for fans of fairy tales. It reaches out like a voice in the woods tempting your childhood self to step off the path and roam in the darkness for a little while." - Istoria Lit Review

"I enjoyed reading this book so much! It was so interesting... I would definitely recommend this book. It was such a quick read with you able to read a tale here and there." - Pythia Reads Review

"Beautiful, twisted, and refreshing takes on classic stories (with a few brand new fairytales thrown in the mix, too)." - Howling Libraries blog tour review

"A great collection." - SciFi Movie Page review

"Like watching a amazing story teller tell a story...so much to love about this anthology." - The Misadventures of a Reader blog tour review

"A great collection of work from some great authors... has something for everyone." - Where There's Ink There's Paper Review

"What impressed me was the depth and range of stories... There's something to delight every fantasy / fairytale / horror fan." - The Book Lover's Boudoir Review

"Definitely worth checking out if you enjoy the darker side of fairy tales and the curses within." - Fantastic Books & Where to Find Them Review

"An incredible collection. A must have for any fantasy fan." - An Average Life Review

"This book is packed with great tales, and some amazing authors. Whatever style that you enjoy, or writers that you like, you will find something to read in this book." - Reader's Enjoy Author's Dreams Review

"I really enjoyed reading Cursed it was perfect as I like fantasy with a dark twist...  I would definitely recommend Cursed and I am sure there is something in their for everyone." - Odd Socks and Lollipops Review

"Perfect for the current state of the world. You'll get sucked into these wonderful stories and want so much more!" - mall3tg1rl blog tour review

"CURSED is a masterfully edited book from a list of highly talented authors that delivers on its promise of evil curses, dark fairy tale retellings, and twists that are sure to give you goosebumps." - The Writerly Way blog tour review

"The cadence of the book is spot on... O'Regan and Kane have a fantastic knack for knowing how to put stories in the right order." - Novel Lives blog tour review

"[These] stories read quickly, but pack a real punch, landing in that sweet spot of short fiction that is often strived for but can be hard to land." - Looking Glass Reads blog tour review

"A worthy addition to the twisted fairy tales genre." - The Frumious Consortium blog tour review

"A fine collection of tales by some of the best names in fantasy... A high level of quality and some really interesting spins on the theme." - Runalong the Shelves Review

"I wouldn't hesitate to recommend it to fans of dark fairytales." - The Paperback Piano Review
Titan Books, 9781789091502, 384pp.
Publication Date: March 3, 2020
About the Author
Marie O'Regan is a British Fantasy Award-nominated writer and editor of horror and dark fantasy fiction. She is the author of four collections, Mirror Mere, Bury Them Deep, In Times of Want and Other Stories and The Last Ghost and Other Stories, and her anthologies include Hellbound Hearts, The Mammoth Book of Body Horror, Carnivale: Dark Tales From the Fairground, The Mammoth Book of Ghost Stories by Women, Phantoms, Exit Wounds and Wonderland. She is Co-Chair of the UK chapter of the Horror Writers' Association and lives in Derbyshire, UK. She tweets @Marie_O_Regan

Paul Kane is the award-winning and bestselling author/editor of over 90 books, including the Arrowhead trilogy (gathered together in the sellout Hooded Man omnibus, revolving around a post-apocalyptic version of Robin Hood), The Butterfly Man and Other Stories, Sherlock Holmes and the Servants of Hell, Before, Arcana and Pain Cages (an Amazon #1 bestseller). He is a respected anthologist, editing books such as Beyond Rue Morgue, The Mammoth Book of Body Horror, Hellbound Hearts and Exit Wounds. His website can be found at www.shadow-writer.co.uk and he tweets @PaulKaneShadow