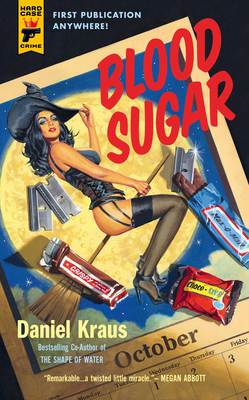 Blood Sugar
Paperback

* Individual store prices may vary.
Description
From Daniel Kraus, the New York Times bestselling co-author of Academy Award-winning Best Picture The Shape of Water, comes Blood Sugar, the blood-curdling story of a Halloween where trick-or-treat becomes life or death...

"A hard kick in the shins you never saw coming... And wow, is it fun to read" - LitReactor Best of 2019 Staff Pick

In a ruined house at the end of Yellow Street, an angry outcast hatches a scheme to take revenge for all the wrongs he has suffered. With the help of three alienated kids, he plans to hide razor blades, poison, and broken glass in Halloween candy, maiming or killing dozens of innocent children. But as the clock ticks closer to sundown, will one of his helpers - an innocent himself, in his own streetwise way - carry out or defeat the plan?

Told from the child's point of view, in a voice as unforgettable as A CLOCKWORK ORANGE, Kraus' novel is at once frightening and emotional, thought-provoking and laugh-out-loud funny. It'll make you rethink your concepts of family, loyalty, and justice - and will leave you double-checking the wrappers on your Halloween candy for the rest of your days.
Praise For Blood Sugar…
"A hard kick in the shins you never saw coming... And wow, is it fun to read" – LitReactor Best of 2019 Pick

"Cutting-edge horror, dark thriller, tragic coming-of-age story—they're all here but blended in a way that's entirely new." – Booklist starred review

"Clever, nasty, thoughtful fun." – The Sunday Sport Review

"Mark this one: most likely to give you nightmares." – Den of Geek

"Short, snappy, and delightfully nasty." – The Book Bag

"I never miss a book by the remarkable Daniel Kraus and Blood Sugar exceeds all expectation. A Stephen King tale told by a pidgin Artful Dodger, it's a twisted little miracle with a sneaking, beating heart." -- Megan Abbott

"Cutting-edge horror, dark thriller, tragic coming-of-age story—they're all here but blended in a waythat's entirely new" - Booklist Starred Review

"Full of suspense...extremely gritty." - BookReporter

"Blood Sugar is itself both a trick and a treat. Kraus's trick is in hiding a deeply emotional novel in the festive trappings of a Halloween story; the treat, of course, is the reward of reading something so gripping and, ultimately, rewarding." -Cemetery Dance 

"Evoking both Jim Carroll's The Basketball Diaries and Faulkner's The Sound and the Fury, it's intimate and utterly engaging, a suspenseful glimpse into the desperate lives of its disadvantaged protagonists."   -Mystery Scene  

"a very poignant and dark look at life in urban America" - Every Read Thing

"an eye-opening look at what some have to do to survive. "-Library Journal

"The perfect Halloween crime story. It's smart, sexy, and a heck of a lot of fun to read." - Warrendale (Detroit) Blog 

"a very clever but extremely dark story, very well told and easy to recommend for a good quick read" - Green Man Review 

"a well-crafted debut novel that impressed me with its powerful story" - Risingshadow
Hard Case Crime, 9781789091939, 224pp.
Publication Date: October 8, 2019
About the Author
DANIEL KRAUS is a New York Times bestselling author. With Guillermo del Toro, he co-authored The Shape of Water, based on the same idea the two created for the Oscar-winning film. Also with del Toro, Kraus co-authored Trollhunters , which was adapted into the Emmy-winning Netflix series. Kraus's The Death and Life of Zebulon Finch was named one of Entertainment Weekly's Top 10 Books of the Year, and he has won two Odyssey Awards (for both Rotters and Scowler) and has been a Library Guild selection, YALSA Best Fiction for Young Adults, Bram Stoker finalist, and more. Kraus's next novel is The Living Dead, a posthumous collaboration with legendary filmmaker George A. Romero. Kraus's work has been translated into over 25 languages. His feature films as director include Musician (New York Times Critics' Pick) and Sheriff (PBS's Independent Lens). He lives in Chicago. Visit him at danielkraus.com.