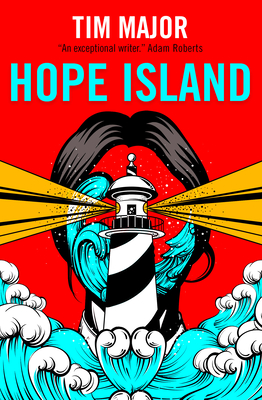 Hope Island
Paperback

* Individual store prices may vary.
Description
A gripping supernatural mystery for fans of John Wyndham's The Midwich Cuckoos from the author of Snakeskins.

Workaholic TV news producer Nina Scaife is determined to fight for her daughter, Laurie, after her partner Rob walks out on her. She takes Laurie to visit Rob's parents on the beautiful but remote Hope Island, to prove to her that they are still a family. But Rob's parents are wary of Nina, and the islanders are acting strangely. And as Nina struggles to reconnect with Laurie, the silent island children begin to lure her daughter away.

Meanwhile, Nina tries to resist the scoop as she is drawn to a local artists' commune, the recently unearthed archaeological site on their land, and the dead body on the beach...
Praise For Hope Island…
PRAISE FOR HOPE ISLAND
 
"Hope Island is a masterfully tense tale, building a looming sense of dread and growing uncertainty. Disturbing and original, surprising and shocking, it's an excellent novel from a unique voice in the genre." 
Tim Lebbon, author of Eden and The Silence

"Hope Island is a deliciously creepy mystery. Tim Major knows how to wield the weird and the effect is an original novel that's unsettling and compelling at every turn. The silent children who stalk the island are a disturbing threat outside, and the threat within the family offers a richly-realised emotional disquiet. Prepare to be unnerved."
D. K. Fields, author of Widow's Welcome and The Stitcher and the Mute

"Tense and compelling, the taut and tangled mysteries of eerie Hope Island conspire to create a roiling fever dream of a novel in which nothing is certain, and in which even one's own senses cannot truly be trusted. Beneath an authentic and empathetic portrait of a family falling apart lies a deeply intuitive, atmospheric enquiry into those truths which underpin all human relationships: the way we speak and listen, the things we say and the things we hide. Hope Island is a strange and brilliantly original novel which cements Tim Major's rightful reputation as a top class writer of fantastical fiction."
Laura Mauro, author of Sing Your Sadness Deep

"Artfully written and brilliantly controlled from the first page, Hope Island explores unsettling territory through well-drawn characters, landscape and a powerful use of sound. But it's the central mother-daughter relationship that gives the book real heart – there's honesty, pain and beauty in here."
M. T. Hill, author of Zero Bomb and The Breach

"I tore through Hope Island, unnerved by its escalating tension and its keen sense of isolation — I genuinely didn't know what to expect whenever I turned the page."
Award-winning author, G. V. Anderson

"The only novel I have read that made my ears tingle."
The Times

"Major has a special skill of weaving his characters' inner turmoils into the perils they face in the plot."
Morning Star

"Refreshingly out of the ordinary."
Sunday Sport

"Hope Island is a multi-layered, extremely engaging and entertaining, thought-provoking novel with a gripping plot and interesting themes. It makes great use of classic horror tropes and takes them somewhere new and original. I loved it."
Storgy

PRAISE FOR THE AUTHOR

"Tim Major is an exceptional writer"
Adam Roberts

"Clever, intriguing and suspenseful … a must-read book from a terrific new voice"
Alison Littlewood on You Don't Belong Here

"A beautifully-written, cleverly unsettling puzzle-box of a novel" 
Adam Roberts on You Don't Belong Here

"You Don't Belong Here is a novel that dares to do something different"
Ginger Nuts of Horror

"You Don't Belong Here is that perfect blend of cautionary tale, psychological horror and introspective character study."
The Eloquent Page

"It has freshness and it's fluently written entertainment."
Rising Shadow

"Strongly recommended for fans of original and uniquely weird fiction."
Ginger Nuts of Horror on Blighters

"Once I started reading it, I couldn't put it down until I reached the end" Lynda Rucker on Carus and Mitch
Titan Books, 9781789092080, 392pp.
Publication Date: March 31, 2020
About the Author
Tim Major is the author of Snakeskins, You Don't Belong Here, Blighters, Carus & Mitch, the YA novel Machineries of Mercy, the short story collection And the House Lights Dim, and a non-fiction book about the silent crime film, Les Vampires. His shorts have appeared in Interzone, Not One of Us and numerous anthologies including Best of British Science Fiction and The Best Horror of the Year. He lives in York, UK.
or
Not Currently Available for Direct Purchase