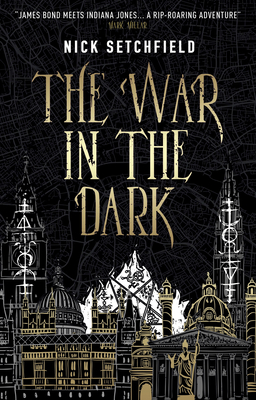 The War In The Dark
Mass Market

* Individual store prices may vary.
Other Editions of This Title:
Paperback (7/17/2018)
Description
A genre-defying page turner that fuses thriller and speculative fiction with dark fantasy in a hidden world in the heart of Cold War Europe.

Europe. 1963. And the true Cold War is fought on the borders of this world, at the edges of the light.

When the assassination of a traitor trading with the enemy goes terribly wrong, British Intelligence agent Christopher Winter must flee London. In a tense alliance with a lethal, mysterious woman named Karina Lazarova, he's caught in a quest for hidden knowledge from centuries before, an occult secret written in a language of fire. A secret that will give supremacy to the nation that possesses it.

Racing against the Russians, the chase takes them from the demon-haunted Hungarian border to treasure-laden tunnels beneath Berlin, from an impossible house in Vienna to a bomb-blasted ruin in Bavaria where something unholy waits, born of the power of white fire and black glass . . .

It's a world of treachery, blood and magic. A world at war in the dark.
Praise For The War In The Dark…
Praise for the series

"James Bond meets Indiana Jones... a rip-roaring adventure. This is the book you'll be reading on the beach even when it rains or the sun goes down" Mark Millar

"A rattling good read... it's thrilling" Russell T Davies

"This book had a tremendous sense of paranoia and uncertainty, and a plot that kept me riveted to find out how it would resolve" Genevieve Cogman

"Nick Setchfield's occult spy thriller is a smooth blend of James Bond and M.R. James, played with tons of wit and style. This is something new that entertains like something old. Triumphantly suave" Paul Cornell

"Like an irresistible blend of a John Le Carré spy thriller and Hammer's The Devil Rides Out, Nick Setchfield's debut novel is a vivid and compelling page-turner, which propels you from scene to scene with such verve and invention that you have no choice but to keep reading. It's the sort of book you pick up, thinking, 'I'll just have five minutes', and an hour later you're still feverishly turning the pages, because you have to find out what happens next" Mark Morris

"Nick Setchfield's The War in the Dark is a thrilling, shocking, action-packed delight! Its horror and magical elements are firmly grounded in a beautifully realised, strangely topical reality, and its momentum never lets up. An assured, memorable debut" Tim Lebbon

"A compelling fusion of Bond-era espionage and occult horror" James Brogden

"A deliciously wild fantasy combining some of the genre s best elements" Marie Claire

"A combination of James Bond, Indiana Jones, and The X-Files set in a post-World War II world, this sf/alternative history debut will appeal to fans who enjoy similar genre mashups" Library Journal

"Nick Setchfield's dark, lightning-quick The War in the Dark... is a tight, high-intensity spook-fest that never wavers from its vision. Setchfield is a master at choosing just the right word to remind us where we are and how we should feel. The reader may rarely get a chance to breathe, but this breathlessness is invigorating" BookPage

"A super-fast paced thriller with believable bits of spycraft and unbelievable (but acceptable) bits of magecraft.... You know this is the start of a series. You should get in on the ground floor" Bookgasm

"I'd read much more in the spy thriller genre if they were as fun and fresh as this one" SciFi Movie Page - 4-Star Review

"As many cool occult twists as spy thrills... I'd love to read more novels set in this world and am honestly rather surprised that I've never encountered anything like this before" The Frumious Consortium

"Reads like an old-fashioned spy thriller, but with the contemporary sensibilities of a conspiracy thriller. It's tense, unsettling, and altogether fascinating" Beauty in Ruins

"Rampaging across Europe hunting artefacts Da Vinci Code style, dealing with the supernatural like the horror masters of old, and second guessing spies the match of any John leCarre creation, plenty of tasty ingredients thrown in" Weekend Sport

"Equally thrilling as it is chilling" Ginger Nuts of Horror

"Setchfield has written a compelling and thrilling story that floats wonderfully in the imagination long after the book has finished" The Dreamcage

"Meshes the genre of fantasy, thriller, supernatural, horror, and an adventure all together and it works marvelously" Geekisphere
Titan Books, 9781789092127, 400pp.
Publication Date: July 30, 2019
About the Author
Nick Setchfield is a writer and features editor for SFX, Britain's best-selling magazine of genre entertainment in film, TV and books. A regular contributing writer to Total Film, he's also been a movie reviewer for the BBC and a scriptwriter for ITV's Spitting Image. The War in the Dark is his first novel. He lives in Bath.
or
Not Currently Available for Direct Purchase