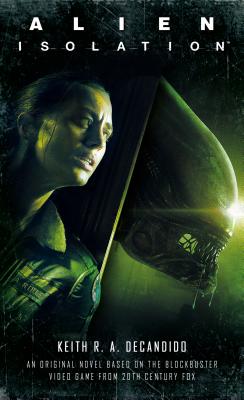 Alien (Mass Market)
Isolation
Titan Books, 9781789092141, 340pp.
Publication Date: July 30, 2019
Other Editions of This Title:
Mass Market (7/30/2019)
* Individual store prices may vary.
Description
The action-packed official adaptation of Alien: Isolation and a revealing look into the lives of Ellen Ripley and her daughter, Amanda Ripley.

The product of a troubled and violent youth, Amanda Ripley is hellbent to discover what happened to her missing mother, Ellen Ripley. She accepts an assignment with a Weyland-Yutani team being sent to retrieve the Nostromo flight recorder from space station Sevastopol, which they find out of control due to a Xenomorph that was brought there with the recorder. A conspiracy unfolds, revealing ever greater threats--including an entire Xenomorph hive. Over the course of the novel, Amanda's history is revealed beginning with her childhood. Her father Alex's battle with alcoholism caused her mother, Ellen Ripley, to sue for divorce. Ellen was forced to take off-world assignments, ultimately leading to her assignment aboard the Nostromo. Left behind, Amanda became determined to find out what happened to her mother, learning more and more about Ellen and the events that led up to her disappearance. Along the way, Amanda develops a fast friendship with Colonial Marine Zula Hendricks (from the Alien: Defiance Dark Horse series).
About the Author
Author of popular Supernatural tie-ins Bone Key and Nevermore, international bestselling writer Keith R.A. DeCandido was born, raised, educated, and still lives in the Bronx. Keith has published over thirty novels, most of them in the realm of media tie-ins. Several of his Star Trek novels have hit the USA Today bestseller list, and received critical acclaim from all over the map, both online and in print. He has also written in the worlds of Blizzard Games, Buffy the Vampire Slayer, Command and Conquer, CSI, Doctor Who, Farscape, Gene Roddenberry's Andromeda, Marvel Comics, Young Hercules, and many more.