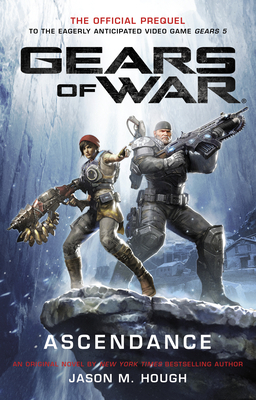 Gears of War (Paperback)
Ascendance
Titan Books, 9781789092615, 464pp.
Publication Date: July 30, 2019
* Individual store prices may vary.
Description
The official prequel to the action video game Gears 5, beginning immediately after Gears of War 4 and leading directly into the new game.

Following Reyna Diaz's death at the hands of the Swarm (in Gears of War 4), Kait seals her mother's tomb and swears revenge. As she, JD, Del, Marcus, Cole, Samantha, and Baird lick their wounds and resupply, First Minister Jinn summons them to New Ephyra, promising that the "crimes" they committed will be forgiven. Before they can rejoin the Coalition, however, Jinn demands proof of their loyalty, and of the threat of the Swarm. Promised a new command, JD and Del agree. Plagued by nightmares, Kait rebels and refuses. When she discovers that two teens from her devastated village have survived, she goes rogue and strikes out to rescue them, accompanied by Marcus Fenix. Pursued by the robotic DeeBees, Kait and Marcus search for survivors. Instead they find an overwhelming force of the enemy--and an unexpected ally. Meanwhile JD and Del lead a mission to locate the Swarm, only to be cut off from New Ephyra. Trapped and surrounded, they're on their own. Picking up where Gears of War 4 left off, GEARS OF WAR: ASCENDANCE is the official, action-packed bridge between that game and Gears 5.
About the Author
Jason M. Hough is the New York Times bestselling author of the Darwin Elevator series and Zero World, published in the UK by Titan Books. He has been a 3D artist, animator, and game designer for Metal Fatigue, Aliens vs. Predator, and others.