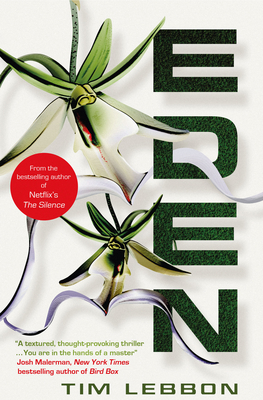 Eden
Paperback

* Individual store prices may vary.
Other Editions of This Title:
Digital Audiobook (10/5/2020)
MP3 CD (10/6/2020)
Compact Disc (10/6/2020)
Description
From the bestselling author of Netflix's The Silence comes a brand-new horror eco thriller.

Earth's rising oceans contain enormous islands of refuse, the Amazon rainforest is all-but destroyed, and countless species edge towards extinction. Humanity's last hope to save the planet lies with The Virgin Zones, thirteen vast areas of land off-limits to people and given back to nature.

Dylan leads a clandestine team of adventure racers, including his daughter Jenn, into Eden, the oldest of the Zones. Jenn carries a secret--Kat, Dylan's wife who abandoned them both years ago, has entered Eden ahead of them. Jenn is determined to find her mother, but neither she nor the rest of their tight-knit team are prepared for what confronts them. Nature has returned to Eden in an elemental, primeval way. And here, nature is no longer humanity's friend.
Praise For Eden…
"EDEN is a perfect torn-from-the-headlines biological thriller. Tim Lebbon mixes action, complex characters, and climate science into an absolute page-turner. This is why science fiction is so important! Highly recommended!"
Jonathan Maberry, New York Bestselling author of V-WARS and RAGE

"Tim Lebbon gives us a near-future as terrifying as it is exhilarating, and—most frightening of all—irresistibly beautiful. Surrender to Eden."
Alma Katsu, author of The Deep and The Hunger

"EDEN is a smart, thrilling, relentless, eco-nightmare that will worm its tendrils deep into you. Let your own ghost orchid grow."
Paul Tremblay, author of A Head Full of Ghosts and The Cabin at the End of the World

"Tim Lebbon destroys the world like most of us put our socks on in the morning. But this is different. The catalyst of the story is hope. The hope that humanity survives, against the odds doled out by a planet that has its own plans for survival. Eden is Deliverance with the volume turned up to eleven. A breathtaking ride through the wild - the really wild - that would give Bear Grylls nightmares."
Stephen Volk, writer of BBC's Ghostwatch and The Dark Masters Trilogy 

"Instantly cinematic. A textured, thought-provoking thriller that will make you wonder what the world would be like if humans were to give it back. Eden is a story about family, humanity and the desire to re-experience the wonders we screwed up the first time around. Nobody is as smooth on the lettered keys as Tim Lebbon. Here, as with all his books, you are in the hands of a master." 
Josh Malerman New York Times best-selling author of Bird Box and A House at the Bottom of a Lake

"I can smell Eden, I can feel it, I can see it. But I want no part of it. Your senses will tingle and twitch as you journey through a forest of hellish life made real by Tim Lebbon's rich prose and slick action sequences. You'll be running behind the team right to the end, and then you'll want to return to the start of the book to warn them—turn back. This is horror at its best, a terrifying nightmare of nature's darkest depths ramped up to eleven, but also a love letter to adventure running, and to nature itself. Highly recommended." 
Adrian J Walker, author of The End of the World Running Club

"Eden will intrigue, delight and thrill in equal measures. Another winner from Lebbon!" 
Simon Clark, author of The Midnight Man and Night of the Triffids

"An entertaining, gruesome story of endurance and survival in the last wild places on earth." Adam Nevill, author of The Reddening

"Against a backdrop of environmental disaster, Tim Lebbon creates a lush, intricate, mysterious and intriguing world – an Eden where anything can happen. The writing is beautiful; the story is haunting and impossible to put down. Highly recommended!" 
Alison Littlewood, author of A Cold Season

"Eden is a first-rate, genre-bending thriller, a dark vision of a horrific future full of heartache and sinister atmosphere... Nobody tells stories like this better than Tim Lebbon." 
Christopher Golden, New York Times bestselling author of Ararat and Snowblind

"Eden is both the darkest of fairy tales & an uncompromising, often gruelling account of adaptation & survival... A relentless page-turner in which the planet bites back!" 
Mark Morris, author of the Obsidian Heart trilogy

"With Eden, Tim Lebbon is at the top of his game. Action-packed, thought-provoking, terrifying, this is the eco horror novel by which all others will be judged." 
Rio Youers, author of The Forgotten Girl and Halcyon

"Eden is both an eerie reimagining of our relationship with nature and a breathless page turning thriller. Tim Lebbon has created a vivid, wild world, filled with savagery and tenderness. It will haunt you." 
Catriona Ward, author of Little Eve and Rawblood

"Eden is the ultimate adventure race turned nightmare, pitting the hubris of human nature against Nature itself, primal and emboldened and hostile. It's a novel that could only have come from Tim Lebbon, melding a fiendish imagination with the heart of an endurance athlete… and a profound concern for the world we must all traverse." 
Brian Hodge, author of The Immaculate Void and Skidding Into Oblivion

"A terrifying thrill ride into nature's well-deserved revenge on humans, Eden is a chilling warning and a fast, hard read... today's version of The Hot Zone." 
Delilah S. Dawson, New York Times bestselling author of Star Wars: Phasma

"Eden is visceral, cinematic and utterly wild, with a disorienting tone like Tarkovsky's Stalker but with a far higher body count. It's another terrifying yet irresistible novel from the effortlessly talented Tim Lebbon." 
Tim Major, author of Snakeskins

"Smart, prescient and gripping, Tim Lebbon's Eden takes us, and his team of adventurers, into the dark, pulsing heart of nature, and we all get far more than we bargained for. This near future eco-thriller puts Lebbon at the top of the tree. Read it. And then recycle." 
Sarah Pinborough, Sunday Times #1 bestselling author of Behind Her Eyes  

"Lebbon excels at portraying the phantasmagorical proliferation of nature within Eden, which is truly red in tooth and claw, and escalates the tension towards a gripping climax."
Guardian

"A more personal form of apocalypse... The gradual build-up makes the slide into all-out nightmare all the more effective." 
SFX Review

"Tim Lebbon has never written anything less than 5 star books."
Sunday Sport

"A consummate example of a high concept adventure novel, multilayered, emotive and thought provoking, it cements Lebbon's place at the top table of genre fiction." 
Ginger Nuts of Horror Review

"Lebbon's writing, as ever, is bold and pacey, his descriptions of Eden's terrain vivid and colourful. But he really excels in the book's numerous breathless action set pieces... Fans of Lost World-style adventure stories will find much to enjoy... Eden will thrill you and it will make you shiver… but it might also make you think…" 
Starburst Review

"Eden is a hauntingly beautiful look at nature's reclamation from man and the lengths it'll take to protect it. Lebbon has crafted a top-notch eco-thriller that is destined for the big screen."
Fan Fi Addict Review

"a bloody, fun eco-thriller with engaging characters and plenty of suspense."
Books, Bones & Buffy Blog Tour Review

"Eden by Tim Lebbon is a fantastic read that sucks you in and holds you captive right to the last page."
Looking Glass Reads Blog Tour Review

"Eden is a hauntingly beautiful look at nature's reclamation from man and the lengths it'll take to protect it. Lebbon has crafted a top-notch eco-thriller that is destined for the big screen.... A fantastic read with a photo finish. Perfect for fans of Jeff VanderMeer's Southern Reach Trilogy. Can't recommend it enough."
FanFiAddict

"Lebbon excels at building a world that is both wondrous and deeply unsettling" - Publishers Weekly

"Jurassic Park meets catastrophic climate change in this creepy, cinema-ready story." - Kirkus Reviews

"Eden is brilliantly paced, with each new section introduced by a piece of "genuine" text, such as reports from the United Zone Council and excerpts from National Geographic magazine. As the group is driven to confront their greatest fears and challenges, the tension continues to mount up until the novel's exciting conclusion. This is a true page-turner that seamlessly blends elements from various genres, from horror and science fiction to classic adventure tales." - BookPage

"Readers looking for an anxiety-inducing, fast-paced horror-thriller hybrid with echoes of Jeff Vandermeer's Southern Reach Trilogy and Christopher Golden's Ben Walker series will love every minute._ - Booklist

"Horror, then, is a natural home for the sublime, & it is employed to the fullest extent in Tim Lebbon's stunning new eco-horror...EDEN is such an experience—the tone, the imagery, the adrenaline" - Book Riot 

"This is a first-class horror thriller. It's got a wild premise, but it's solidly anchored in reality by its well-constructed characters — and Lebbon's knack for making a fantastic story feel as though it could actually happen."- Winnepeg Free Press

"Tim Lebbon's apocalyptic eco-horror The Nature of Balance has always been one of my favorites in this sub-genre, and he's managed to top it with this offering. This is one of those novels marketed as a "thriller," but there's plenty of horror to be had. Not only in the death and the violence, but in the alien, strange power of the force in Eden, and how it has consumed—literally and figuratively—all those who have tried to trespass. Lebbon offers weirdly beautiful and horrific images that call to mind those delivered in the theatrical version of Annihilation, and many times I was left chilled by his depictions of a remorseless Nature determined to thrive and grow. A truly gripping and horrifying read. Highly recommended." - Cemetery Dance

"fascinating...thrilling...terrifying...textured like a movie"   - Scream Magazine


Titan Books, 9781789092936, 384pp.
Publication Date: April 7, 2020
About the Author
Tim Lebbon is the New York Times bestselling author of Coldbrook, The Silence, and the Relics trilogy. He has also written many successful movie novelizations and tie-ins for Alien and Firefly. Tim has won three British Fantasy Awards, a Bram Stoker Award, a Shocker, a Tombstone and been a finalist for the International Horror Guild and World Fantasy Awards. The Silence is now a gripping Netflix movie starring Stanley Tucci and Kiernan Shipka.