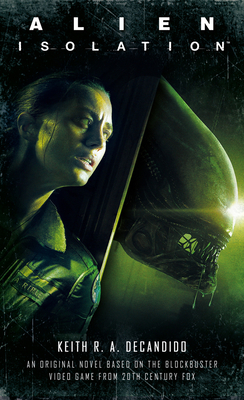 Alien
Isolation
Mass Market

* Individual store prices may vary.
Other Editions of This Title:
Digital Audiobook (11/11/2019)
Description
The action-packed official adaptation of Alien: Isolation and a revealing look into the lives of Ellen Ripley and her daughter, Amanda Ripley.

THE OFFICIAL VIDEO GAME ADAPTATION--AND MUCH MORE!

From birth, Amanda Ripley's life is riddled with hardship. Her parents live on the edge of poverty, so her mother--Ellen Ripley--seeks off-world contracts that lead to a position aboard the commercial hauler Nostromo. Then when the deep-space vessel disappears, Amanda passes into adulthood focused on discovering one thing.

WHAT HAPPENED TO ELLEN RIPLEY?

Amanda's quest pulls her into the underbelly of society, where few can be trusted. On Luna she meets someone who seems the exception--Private Zula Hendricks of the Colonial Marines but their relationship is short-lived. Just as Amanda appears to hit rock bottom... a lead appears.

To follow it, she must travel to the remote Sevastopol Station. There she hopes to find the answers she seeks. But the station is in ruins, and death stalks the corridors in the form of a deadly alien the likes of which she never could have imagined.
Titan Books, 9781789093070, 384pp.
Publication Date: July 30, 2019
About the Author
Author of popular Supernatural tie-ins Bone Key and Nevermore, international bestselling writer Keith R.A. DeCandido was born, raised, educated, and still lives in the Bronx. Keith has published over thirty novels, most of them in the realm of media tie-ins. Several of his Star Trek novels have hit the USA Today bestseller list, and received critical acclaim from all over the map, both online and in print. He has also written in the worlds of Blizzard Games, Buffy the Vampire Slayer, Command and Conquer, CSI, Doctor Who, Farscape, Gene Roddenberry's Andromeda, Marvel Comics, Young Hercules, and many more.