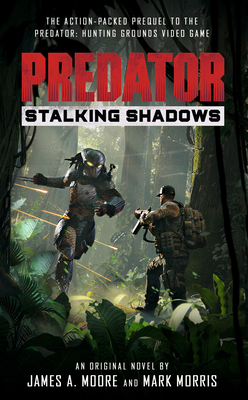 Predator (Paperback)
Stalking Shadows
Titan Books, 9781789094411, 336pp.
Publication Date: May 13, 2020
* Individual store prices may vary.
Description
An action-packed prequel to the new IllFonic video game PREDATOR: HUNTING GROUNDS - revealing deeply buried secrets in the battle between the ultimate hunters and their human prey.

This official prequel novel leads into the new PlayStation®4 video game from IllFonic. PREDATOR: STALKING SHADOWS is the bridge between Predator 2 and the current day continuity. U.S. Marine Scott Devlin takes on a new assignment that begins with the clean-up of a Los Angeles combat scene revealing what appears to be alien weapons and tech. His next mission, to an equatorial jungle, seems like an assault on a drug cartel until his team finds human bodies, skinned and suspended from the trees. Justifiably freaked out, Devlin digs deeper and discovers hidden truths, clandestine agencies, savage opponents... and an unexpected ally.

Predator TM & © 2019 Twentieth Century Fox Film Corporation. All rights reserved.
About the Author
JAMES A. MOORE is the bestselling author of Alien: Sea of Sorrows, The Predator: Hunters and Hunted, Fireworks, Under The Overtree, The Last Sacrifice, and more. Twice nominated for the Stoker Award, he has served as an officer in the Horror Writers Association.

MARK MORRIS is an acclaimed horror author who has written tie-in novels for popular properties like Doctor Who, Vampire Circus, The Great Wall, and The Predator.