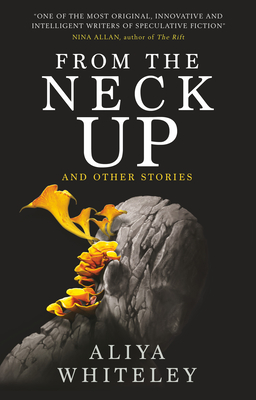 From the Neck Up and Other Stories
Paperback

* Individual store prices may vary.
Description
"Feels like a major collection" – The Washington Post
A short fiction collection to stand with Ted Chiang's Exhalation and Kelly Link's Magic for Beginners.



The new collection of beautiful, strange and disarming short stories from the award-winning author of The Beauty, Clarke Award nominee The Loosening Skin and The Arrival of Missives, Aliya Whiteley. In 16 stories Whiteley deftly unpeels the strangeness of everyday life through beguiling gardens, rebellious bodies and journeys across familiar worlds, with her trademark wit and compassion.

Witness the future of farming in a new Ice Age, or the artist bringing life to glass; the many-eyed monsters we carry and the secret cities inside our bodies; the alien invasion through our language to the Chantress and her twists on the fairy tale. Fascinating and always unexpected, Whiteley is unlike any other writer working today.
Praise For From the Neck Up and Other Stories…
PRAISE FOR FROM THE NECK UP

"[Shows] Aliya Whiteley's poetic skill with horrific-tinged fantasy. From The Neck Up and Other Stories, feels like a major collection."
– The Washington Post

"Readers of Jeff Vandermeer, Meg Ellison, and Jeffrey Ford will love this complex, grotesque, and brilliantly humanistic collection." - Publishers Weekly starred review

"When I read Whiteley's short stories I think of Japanese netsuke - magnificent miniatures, perfect in every detail. But netsuke don't keep me awake at night."
– M. R. Carey

"Strange, playful, or downright heartbreaking, each of these tales is a storytelling masterclass. Aliya Whitely's endlessly inventive fiction is clearly in a league of its own. Quite another level of speculative fiction writing."
– Marian Womack

"If any more proof were needed, From the Neck Up secures Aliya Whiteley as one of the most important and interesting current writers of SF and weird fiction. Equal parts Shirley Jackson and John Wyndham, these tales are consistently unsettling, yet despite wild concepts they remain warm and humane, populated with recognisable people and their recognisable fears and compulsions. In short, this collection is an absolute triumph."
– Tim Major, author of Snakeskins and Hope Island

"Aliya Whiteley is one of this generation's most exciting science fiction authors. Her stories are miniature universes that crackle with energy and intellectual acumen, combining keen observation, wry wit and a willingness to imagine the impossible. I adore everything she writes."
– Helen Marshall, author of The Migration

"Darkly delicious and strange, Whiteley uses the future to show us where we are, horror to unbury what we think about love, ageing and loss. I was never quite comfortable reading these stories, which is how it should be. They seize you from the neck up."
– Angela Readman 

"Aliya's stories are gloriously inventive, wide-ranging and beautifully written. A vibrant collection."
– Alison Moore

"A masterful collection from one of the most talented and original speculative fiction writers working today. The stories in From the Neck Up are strange, unsettling, quietly beautiful and utterly unique. They got under my skin and lodged there."
– Stark Holborn, author of Ten Low

"This beguiling and beautiful, yet undeniably unnerving collection, with its tales of the ordinary made strange, will captivate readers. It explores provocative and intriguing feelings similar to those in the short stories of Samanta Schweblin, Kelly Link, and Carmen Maria Machado."
– Library Journal

"Phenomenal from beginning to end."
– Fangirl Nation

"Endowed with a powerful, versatile imagination able to produce dark stories, often in a surrealistic vein."
– Horror Tree

"A book for anyone with any interest in modern speculative fiction... written by a master of the genre"
– The Frumious Consortium

"Whiteley's wild imagination and her ability to craft vivid, surreal imagery never ceases to amaze."
– Whimsy Dearest

"An imaginative, original and intelligent collection... Recommended for fans of something different and infinitely strange"
– Advance the Plot

"Gets under your skin and lingers"
– Looking Glass Reads

"There is a lot to think about in these excellent stories. If you have read Skein Island or Skyward Inn, you'll recognise some of the atmosphere, and themes, but the exploration of them across different fragments of story adds new depth (and enjoyment)."
– Blue Book Balloon

"Whiteley's gothic inflected science fiction is icy and remote and you can't look away."
– New Scientist Review 

"Whiteley has a penchant for infusing the mundane with the strange and the uncanny, successfully punching holes in the surface of our perception of everyday life with her creepy little tales. She is a skillful writer, seamlessly combining lightness of style and a wide range of topics with socio-philosophical observation."
– Re-Enchantment of the World Review

"Memorable and unique... Whiteley is one of speculative fiction's best writers and this is a very rewarding read."
– Runalong the Shelves Review

"I found myself being blown away by some of these stories... To the Farm was particularly poignant and resonated with my own ideas about the heartlessness of abandoning pets." 
– Literary Flits Review

"The art of a good short story to me: being able to condense an idea down to its core without losing substance... This collection delivered a coherent and fascinating experience, that will get under your skin and linger there."
– The Fiction Fox Review

"[Whiteley] is truly ambitious and capable of making her writing enjoyable while pushing the boundaries of normal storytelling... The way [Whiteley] combined this strange world of hers, and the ugliness of humanity at times made it a gripping read.. I'm very impressed."
– Days in Other Worlds Review


PRAISE FOR ALIYA WHITELEY

"Aliya Whiteley's fiction scintillates with ideas, skips back and forth across genre boundaries with an ease and audacity that is glorious to behold. She is very much at the forefront of the new wave of UK genre writers"
– Mark Morris

"There's something so easy about Whiteley's prose despite constantly delivering a dense philosophical gut punch. Her characters are rich but mysterious, flawed and fascinating. The plot twists and turns, blindsiding the reader at every turn while feeling as though it could never really have gone any other way."
– British Fantasy Society
Titan Books, 9781789094756, 320pp.
Publication Date: September 14, 2021
About the Author
Aliya Whiteley was born in Devon in 1974, and currently lives in West Sussex, UK. She writes novels, short stories and non-fiction and has been published in places such as The Guardian, Interzone, McSweeney's Internet Tendency, Black Static, Strange Horizons, and anthologies such as Unsung Stories' 2084 and Lonely Planet's Better than Fiction I and II. She has been shortlisted for an Arthur C. Clarke Award, Shirley Jackson Award, British Fantasy and British Science Fiction awards, the John W Campbell Award, and a James Tiptree Jr award. Her stories are unpredictable; they can be terrifying, tender, ferocious and deeply funny. She also regularly reviews film, books and television for Den of Geek. She blogs at: aliyawhiteley.wordpress.com and she tweets most days as @AliyaWhiteley.