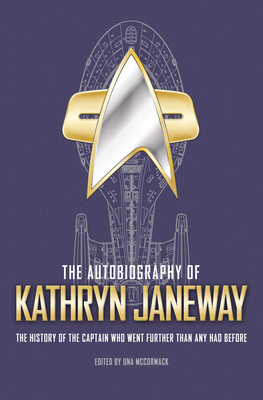 The Autobiography of Kathryn Janeway
Hardcover

* Individual store prices may vary.
Other Editions of This Title:
Paperback (7/6/2021)
Description
Captain Janeway of the U.S.S. Voyager tells the story of her life in Starfleet, for fans of Star Trek.

Kathryn Janeway reveals her career in Starfleet, from her first command to her epic journey through the Delta Quadrant leading to her rise to the top as vice-admiral in Starfleet Command. Discover the story of the woman who travelled further than any human ever had before, stranded decades from home, encountering new worlds and species.

Explore how she brought together Starfleet and the Maquis as part of her crew, forged new alliances with species across the galaxy and overcame one of Starfleet's greatest threats - the Borg - on their own remote and hostile territory. Get Janeway's personal take on key characters such as Seven of Nine, her trusted friend Tuvok, new arrivals like Neelix and her second-in-command, Chakotay.
Praise For The Autobiography of Kathryn Janeway…
"A fantastic addition to the legend of Star Trek's first female captain... Kudos to author Una McCormack for so thoughtfully expanding Janeway's story, and giving readers some truly interesting material to chew over" - Trek News 

"A beautiful visual of a little girl who reached her dreams at great cost" - Redshirts Always Die 

"I love to read biographies and especially memoirs... While this is, of course, fiction and indeed, space fantasy, it pushes all the same buttons." - Women At Warp

"Thanks to McCormack's flowing prose, you can lose yourself completely in this book; you may not want to put it down once you start." - TrekMovie.com

"A fitting tribute to a character who has been an inspiration to audiences for a quarter of a century" - Daily Trek News

"A must-read for any Voyager fan" - TrekMovie 

"McCormack is a terrific Star Trek author, and... she takes extremely well to Janeway and the Voyager milieu" - TrekCore

 'Fans looking for a trip through memory lane and the key encounters of the crew on Star Trek Voyager, all in that calming and authoritative voice, will find it here' - Borg.com 

 'I loved every bit of it... felt like the final epilogue on a beloved story' - Scifi Chick
Titan Books, 9781789094794, 224pp.
Publication Date: October 27, 2020
About the Author
Una McCormack is the author the Star Trek novels: The Lotus Flower (part of The Worlds of Star Trek: Deep Space Nine), Hollow Men, The Never-Ending Sacrifice, Brinkmanship, The Missing, the New York Times bestseller The Fall: The Crimson Shadow, and Enigma Tales, and the Doctor Who novels The King's Dragon, The Way Through the Woods, and Royal Blood. She lives in Cambridge, England, with her partner of many years, Matthew, and their daughter, Verity.