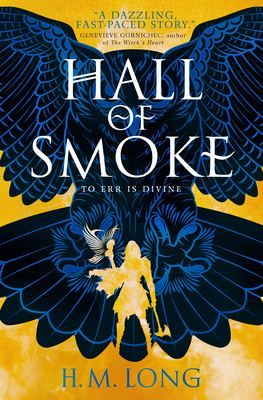 Hall of Smoke
Paperback

* Individual store prices may vary.
Other Editions of This Title:
Digital Audiobook (1/18/2021)
Description
Epic fantasy featuring warrior priestesses, and fickle gods at war, for readers of Brian Staveley's Chronicles of the Unhewn Throne.

Epic fantasy featuring warrior priestesses and fickle gods at war, for readers of Brian Staveley's Chronicles of the Unhewn Throne. Hessa is an Eangi: a warrior priestess of the Goddess of War, with the power to turn an enemy's bones to dust with a scream. Banished for disobeying her goddess's command to murder a traveller, she prays for forgiveness alone on a mountainside.

While she is gone, raiders raze her village and obliterate the Eangi priesthood. Grieving and alone, Hessa - the last Eangi - must find the traveller and atone for her weakness and secure her place with her loved ones in the High Halls. As clans from the north and legionaries from the south tear through her homeland, slaughtering everyone in their path Hessa strives to win back her goddess' favour.

Beset by zealot soldiers, deceitful gods, and newly-awakened demons at every turn, Hessa burns her path towards redemption and revenge. But her journey reveals a harrowing truth: the gods are dying and the High Halls of the afterlife are fading. Soon Hessa's trust in her goddess weakens with every unheeded prayer.
Thrust into a battle between the gods of the Old World and the New, Hessa realizes there is far more on the line than securing a life beyond her own death. Bigger, older powers slumber beneath the surface of her world. And they're about to wake up.
Praise For Hall of Smoke…
Featured in Goodreads 45 most anticipated SFF of 2021 

"Long gives us a flawed hero, a woman battling grief, rage and – perhaps most poignant of all – doubt. It is thrilling to stand beside Hessa as she stares into the abyss and begins to reassemble herself there. Long's writing is elegantly understated, filling out Hessa's complex world without ever stranding us – we are with her through every stumble and triumph. Hall of Smoke is ultimately a book about what it means to have your deepest illusions shattered and still scrape together the courage to begin again. A vivid and compelling debut."
Lucy Holland, author of Sistersong

"Hall of Smoke is a breath of fresh air. The world is unique, the fights are top-notch, and the cast is unforgettable. A dazzling, fast-paced story with clashing civilizations, squabbling gods, and an indomitable heroine caught in the center of it all, Hessa's is a tale that will grab you from the very first line and won't let you go. I can't wait to see what Long comes up with next."
Genevieve Gornichec, author of The Witch's Heart

"Hessa is a brilliantly written heroine, and I could easily have spent another 400 pages with her. The book's world-building is intricate and refreshingly original, and it all ramps up to a finale that is the dictionary definition of epic."
Allison Epstein, author of A Tip for the Hangman

"The story world was rich and real, and I have rarely read a fantasy novel that transported me like HALL OF SMOKE did. If you are a fan of myths and legends where gods and goddesses roam the earth and meddle with the poor mortals that serve them, you are in for an absolute treat with this book."
M. J. Kuhn, author of Among Thieves

By turns gripping and poignant, Hall of Smoke is a compelling debut. – The Guardian

This fascinating debut ... is a breath of fresh air – The Nerd Daily

An outstanding epic fantasy debut, Hall of Smoke surprised me at every turn – Books, Bones and Buffy

[Hall of Smoke has] quickly become one of my favourite fantasy books I've read in a good long while, and one that I know that I'll be shouting about and recommending to a lot of people. The perfect debut novel. – Set the Tape

I love it. H.M. Long refuses to play it safe and, in the process, brings something new to the epic fantasy genre. – Beauty in Ruins

A tale of grief and redemption that invites its readers to question what they know of this world at every turn... a valiant debut from an author I will be looking out for – Bookstacked

The book is well-written and the language is beautiful. – Susannah Reads

Super enjoyable - Nature of Myth

The quality of the prose is excellent, and really evokes an otherworldly feel. - First Breath

Every inch as epic as the blurb suggests. – A Pigeon Reads

A great debut – Living In Stone


"Fun and mesmerizing....If you are at all interested in Norse inspired fantasy, I definitely recommend you check out Hall of Smoke."- The Quill to Live 

'A deep dive into the the woods, mist, and magical mysteries of those of antique sagas just sitting and waiting be opened' - The Alliterates

'Promises a detailed, unique fictional world and a rich reading experience" - Bookbub

 'A wonderful and refreshing treat for fans of mythological fantasy and gorgeously crafted worlds' - The Bibliosanctum

'Viking-esque in its telling, this book gripped me from start to finish... Highly recommend' - Book Blurb

'Utterly creative... it's awesome to start the year off with a book that you know will be on your favorites list at the end of the year' 5* - Jennifer Brooks

This book was brilliantly written. I was hooked from the very first page - Lisa's Books, Gems & Tarot

Great fun, always engaging, and strongly recommended. - Blue Balloon Book Review

A wonderfully written and immersive story which for me breathed new life into adult epic fantasy books. – Paperbacks & Pinot 

An impressive feat of world building and so wonderfully described, Hall of Smoke is a remarkable feat of fantasy for any discerning reader – Bookshelf Butterfly

An absolutely remarkable, compelling and expansive fantasy experience that took hold of me completely... if you have any interest in fantasy, no matter how minute, then Hall Of Smoke is a must read. – Always Trust in Books

Hall of Smoke is a triumph of a debut. It's a gripping fantasy that will reel you in from the first page and never let you go... This story takes you for a ride through varied lands, with an incredible cast of characters. It is dazzling and compelling, you will not be able to put this down. – Words of a Paige

It has been a long time since I read a book that completely sucked me in. Hall of Smoke just did that. With its intriguing plot, on-point world building, well-detailed magic system, and interesting characters, I had this constant feeling to know about it more. – Levicorpvs

Hall of Smoke is a beautifully written novel with an exquisitely detailed world. – Twisted in Pages

I would recommend this book to those who love reading fantasy stories, especially Epic/High fantasy novels – Paperback Tomes

A refreshing take on the holy quest trope – The Frumious Consortium

A deep dive into the the woods, mist, and magical mysteries of those of antique sagas just sitting and waiting be opened – The Alliterates

A wonderful and refreshing treat for fans of mythological fantasy and gorgeously crafted worlds – The Bibliosanctum
Titan Books, 9781789094985, 432pp.
Publication Date: January 19, 2021
About the Author
H. M. Long is a Canadian fantasy writer, author of HALL OF SMOKE and TEMPLE OF NO GOD, who loves history, hiking, and exploring the world. She lives in Ontario, but can often be spotted snooping about European museums or wandering the Alps with her German husband.