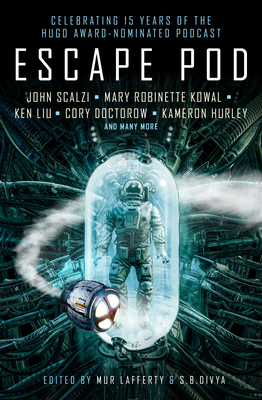 Escape Pod
The Science Fiction Anthology
Paperback

* Individual store prices may vary.
Description
The fifteenth anniversary of the Hugo-nominated science fiction podcast Escape Pod, featuring new and exclusive stories from today's bestselling writers.

Finalist for the 2020 Hugo Award for Best Semiprozine.

Celebrate the fifteenth anniversary of cutting-edge science fiction from the hit podcast, Escape Pod. Escape Pod has been bringing the finest short fiction to millions of ears all over the world, at the forefront of a new fiction revolution.

This anthology gathers together fifteen stories, including new and exclusive work from writers such as from Cory Doctorow, Ken Liu, Mary Robinette Kowal, T. Kingfisher and more. From editors Mur Laffterty and S.B. Divya comes the science fiction collection of the year, bringing together bestselling authors in celebration of the publishing phenomenon that is, Escape Pod.
Praise For Escape Pod: The Science Fiction Anthology…
'A major new sci-fi anthology' – New Scientist.

'The 15 pieces in this diverse, enjoyable anthology…showcase the wide variety of ideas the short science fiction story can accommodate…The result is sure to please" – Publishers Weekly

"[Mur Lafferty is] …one of the worst-kept secrets in science fiction and fantasy publishing." – Cory Doctorow 

"Podcast fans will undoubtedly enjoy this book, as they experience stories written by their favorite "escape artists." For the uninitiated in the Escape Pod universe, consider this anthology as an invitation to the new fiction revolution." - Portland Book Review

"Excellently curated and arranged, this collection really does provide a nice range of the best that SF has been offering, from a variety of voices and perspectives" – Skiffy and Fanty

"If Escape Pod: The Science Fiction Anthology is any indication to the quality of the work found in the podcast, it is certainly worth checking out."
SF Book Review

"As subversive as it is excellent."
Amazing Stories

"One of the strongest anthologies I've ever read... All science fiction fans should add Escape Pod to your "must read" list immediately!"
Books, Bones & Buffy

"Hugely satisfying and well worth your attention."
Runalong the Shelves

"Not only is it a book that shows the beauty and versatility of the science fiction genre, but it's one that will leave you wanting to read more."
Trans-Scribe Review

"A great anthology ... Escape Pod delivers it all."
Liis Thinks Review

"I can fully recommend [Escape Pod: The Science Fiction Anthology]"
ReiBwolf Review

"Something for everyone!"
Lisa's Books, Gems & Tarot

"I would definitely recommend this anthology."
The Curious Reader

"There is something for everyone in this collection."
Chain Interaction

"A marvellous collection, and one I wholeheartedly recommend" – Sci-Fi & Fantasy Reviews
Titan Books, 9781789095012, 336pp.
Publication Date: November 24, 2020
About the Author
S.B. Divya is the author of the Nebula nominated novella, RUNTIME (Tor.com, 2016) and has published short fiction in Analog and Uncanny. She is co-editor of the Hugo nominated weekly science-fiction podcast, Escape Pod, with Mur Lafferty. She holds degrees in Computational Neuroscience and Signal Processing, and has worked for 20 years as an electrical engineer.

Mur Lafferty is a writer, podcast producer, gamer, geek, and martial artist. She is the host of the award winning podcast I Should Be Writing, and the host of the Angry Robot Books Podcast. She is the winner of the 2013 John W. Campbell Award for Best New Writer.