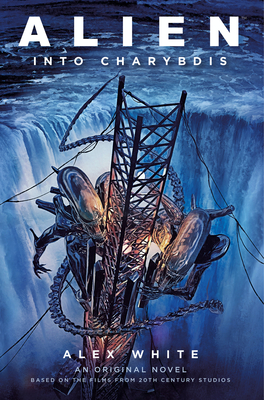 Alien - Alien
Into Charybdis
Hardcover

* Individual store prices may vary.
Other Editions of This Title:
Paperback (2/22/2022)
Description
The critically acclaimed author of Alien: The Cold Forge takes readers to a rogue colony where terror lurks in the tunnels of an abandoned Weyland-Yutani complex.


"Shy" Hunt and the tech team from McAllen Integrations thought they'd have an easy job—set up environmental systems for the brand new Hasanova Data Solutions colony, built on the abandoned ruins of a complex known as "Charybdis." There are just two problems: the colony belongs to the Iranian state, so diplomacy is strained at best, and the complex is located above a series of hidden caves that contain deadly secrets. When a bizarre ship lands on a nearby island, one of the workers is attacked by a taloned creature, and trust evaporates between the Iranians and Americans. The McAllen Integrations crew are imprisoned, accused as spies, but manage to send out a distress signal… to the Colonial Marines.

Alien: Into Charybdis TM & © 2019 Twentieth Century Fox Film Corporation. All rights reserved.
Praise For Alien - Alien: Into Charybdis…
"A fast-paced, sci-fi horror dream of a book." – Book Riot


"A fresh tale of dread... provides ample shocks and screams" – Space.com


"I can't stress this enough ... Alien: Into Charybdis is quite simply a must-own for fans of the franchise, and one an aficionado would be sorely mistaken to skip." – Movie Nooz

Praise for Alien: The Cold Forge:

"The Cold Forge is simply the most original and gripping Alien novel I've had the pleasure of reading for a long time."—Aliens vs. Predator Galaxy
 
"An intense ride through a story that may sound familiar but manages to constantly subvert—and surpass—expectations"—Dread Central

"No book or film has portrayed the people behind the Weyland-Yutani Corporation as more vile and despicable as author Alex White has envisioned them."—Borg.com

"Alex White's story would make a damn fine movie in itself."—Set the Tape

"Alex White weaves an enthralling tale of humanity at its best and worst, wrapped in the life or death struggle all Alien fans have come to cherish… I can say with certainty this is the best book I have read from Titan Books."--MovieNooz

Praise for Alex White:

"A clever fusion of magic and sci-fi makes this book a total blast. I was hooked from page one."—V.E. Schwab, author of A Darker Shade of Magic on A Big Ship at the Edge of the Universe

"[The Big Ship at the Edge of the Universe is] a fast-paced adventure with charismatic characters and formidable enemies in a realized universe of greed and power"—Booklist

"Fast, compelling, epic in scope, with stakes that just keep getting higher and tension that mounts and mounts to the breaking point."—Locus on A Bad Deal for the Whole Galaxy 
 
"[Every Mountain Made Low is] a good story, in a world I want to see more of, with an ambitiously portrayed main character – I enjoyed it, and I'd recommend you give it a try."—Sci-Fi and Fantasy Reviews

"[Every Mountain Made Low] is an all-nighter and it's worth it as the ending is quirky (just like the rest of the book). I cannot wait to read Alex White's next novel."—Night Owl Reviews
Titan Books, 9781789095531, 560pp.
Publication Date: February 23, 2021
About the Author
Born and raised in the American south, ALEX WHITE values challenging and subversive writing. Author of Alien: The Cold Forge, the "Salvagers" series--a space opera treasure hunt, the Southern American dystopia Every Mountain Made Low, and a new forthcoming science fiction trilogy, their professional life has enabled them to understand both the corporate and military mind-sets. Alex lives in Huntsville, Alabama, with their wife and son.