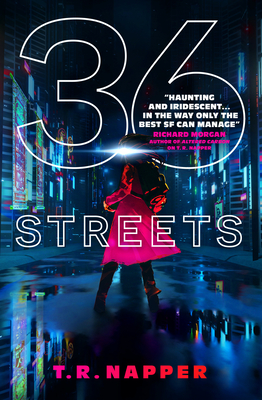 36 Streets
Paperback

* Individual store prices may vary.
Other Editions of This Title:
Compact Disc (4/19/2022)
MP3 CD (4/19/2022)
Description
Altered Carbon and The Wind-Up Girl meet Apocalypse Now in this fast-paced, intelligent, action-driven cyberpunk, probing questions of memory, identity and the power of narratives.

Lin 'The Silent One' Vu is a gangster in Chinese-occupied Hanoi, living in the steaming, paranoid alleyways of the 36 Streets. Born in Vietnam, raised in Australia, everywhere she is an outsider.

Through grit and courage, Lin has carved a place for herself in the Hanoi underworld under the tutelage of Bao Nguyen, who is training her to fight and survive. Because on the streets there are no second chances.

Meanwhile the people of Hanoi are succumbing to Fat Victory, an addictive immersive simulation of the US-Vietnam war. When an Englishman – one of the game's developers – comes to Hanoi on the trail of his friend's murderer, Lin is drawn into the grand conspiracies of the neon gods: the mega-corporations backed by powerful regimes that seek to control her city.

Lin must confront the immutable moral calculus of unjust wars. She must choose: family, country, or gang. Blood, truth, or redemption. No choice is easy on the 36 Streets.
Praise For 36 Streets…
Best Reads of 2022, Sydney Morning Herald


Best Books of 2022, Canberra Times


"Intricately plotted, using advanced biotechnology, a close investigation into Vietnamese history and culture, and a hard-edged, complicated lead character, Napper's fine first novel will draw in cyberpunk readers." - Booklist

"A gripping near-future cyberthriller ...Napper drives the brisk plot forward with plenty of action and intrigue. Cyberpunk fans will find much to enjoy in the noir tone, unique setting, and high stakes."  - Publishers Weekly

"[36 Streets] has things both novel and serious to say about the psychological effects of intrusive media. This is a kick-the-door-down account of how past traumas — personal and national — may one day be weaponised for social control."— The Sunday Times

"36 Streets glows bright and hallucinatory as tropical neon, goes down smooth as warm sake, cuts deep as a nano-steel blade. Napper honours classic cyberpunk with fresh perspectives and hot genre recombinations, a nasty new future gleam, the proverbial new coat of paint. But there are more austere echoes here too, of Graham Greene and Kazuo Ishiguro, of a whole post-colonial literary heritage banging to be let in. In a genre stuffed with facile hero narratives, 36 Streets consistently chooses something else - messy humanity, grey moral tones and choices, hard-edged geopolitical truth. Raw and raging and passionate, this is cyberpunk literature with a capital fucken L. Get it while it's hot!"
Richard Morgan, author of Altered Carbon

"Quintessential cyberpunk, hard-nosed, sharp edged and gleaming." Adrian Tchaikovsky, author of Children of Time

"Not since Bacigalupi's The Windup Girl have I been so utterly enthralled by a science fiction novel. 36 Streets is a cyberpunk tour de force - richly textured, nuanced, and shot-through with emotional depth. I could practically feel the sweaty, grimy, bloody, tropical heat oozing from the pages. One of the standouts of the year."—Richard Swan, author of The Justice of Kings

"T. R. Knapper understands not just the style of Cyberpunk fiction but the importance of style to the genre. That is not to stay that he stints on the substance, it's there in spades. The writing is astonishing, seamlessly incorporating inspirations from as far afield as Graham Greene and Coppola, yet never being anything other than original and fresh. This is an important book, particularly at a time when our heavily mediated reality is becoming increasingly frangible."—Gavin Smith, author of The Bastard Legion
 
"Brutal, brooding, brilliant . . . an angry vision of violence wrapped around a complex meditation of memory, trauma and hegemony. This is cyberpunk with soul."
Yudhanjaya Wijeratne, author of The Salvage Crew
 
"Intimately concerned with the little guy in a world of neon gods, Napper paints a prophetic and uncomfortably believable vision of the future. A fascinating interplay between advancing technology and wish fulfillment, 36 Streets is ambitious in scope while remaining deeply human."
Tim Hickson, Hello Future Me
 
"High-octane, immersive SF at its best. 36 Streets is sure become a classic in the field." 
Kaaron Warren, Shirley Jackson Award-Winner
 
"Napper has made a remarkable character in the form of his protagonist Lin Thi Vu, subverting to some degree the conventions of the world of male power and violence. It's a great achievement. The set pieces, the interludes, of performed mastery with weapons and skill, are well poised and set the scene with ritualised violence." 
Stephen Teo, author of Chinese Martial Arts Cinema: The Wuxia Tradition
 
"An engrossing, intriguing action-packed duty tour of a tech-thick, violence-infused, neon-scorched near future gangland Vietnam, where unwinnable games run hot and wild. Highly recommended."
Cat Sparks, author of Lotus Blue
 
"A fun, frenetic journey of neon-blasted streets, sinister underworlds and oodles of brutal tech, rendered in cutthroat prose so tangible you can almost smell the grime and cigarette smoke. T. R. Napper's cyberpunk world is a feral, back-alley brawl of a novel with real blood under its nails."
Jeremy Szal, author of Stormblood
 
"Beautiful, shimmering, ghostly science fiction."
Anna Smith-Spark, author of Empires of Dust

"A kick-the-door-down account of how past traumas — personal and national — may one day be weaponised for social control." — The Times

"A lot to enjoy here." — SFX Magazine

"36 Streets is refreshing, and brilliantly realised SF noir." — Grimdark Magazine

"I would recommend this book to sci-fi cyberpunk fans." — What you Tolkein About

 
Praise for T R Napper
 
"Haunting and iridescent - combines the paranoid weirdness of the best Philip K Dick, the chilly but cool-as-fuck future gleam of cyberpunk, and an achingly beautiful literary inflection reminiscent of mainstream heavyweights like Murakami or Ishiguro. T. R. Napper's futures feel at once gritty and vertiginous and close-focus human in the way only the best SF can manage. Whatever roadmap he's working from, I can't wait to see where he's taking us next."
Richard Morgan, author of Altered Carbon
 
"Heartbreaking… it evokes the depth of Chinese history, the successive wars, the poetry that expresses both the love of the landscape and the pain of the soldier leaving home, perhaps never to return." (for Dark on a Darkling Earth)
Locus Magazine

"T R Napper's cyberpunk story is a standout [in the collection], featuring a download with the tension of a high-speed chase" (for Twelve Minutes to Vinh Quang ) 
Publisher's Weekly

"The story is by turns blackly funny, speculatively impressive, and bleakly moving." (for A Strange Loop) 
Rich Horton, Locus Magazine
 
"wonderfully strange" (for An Advanced Guide to Successful Price-Fixing in Extraterrestrial Betting Markets ) 
sci fi review

"Darkly gonzoid" (for An Advanced Guide to Successful Price-Fixing in Extraterrestrial Betting Markets ) 
Locus Magazine

"The whole reads like a fever dream" (for The Great Buddhist Monk Beat Down )
Tangent Online
 
"Thrilling and Moving" (for Ghosts of a Neon God) 
Rocket Stack Rank
Titan Books, 9781789097412, 448pp.
Publication Date: February 8, 2022
About the Author
T. R. Napper is a multi-award-winning author, including the Aurealis for best short story. His work has appeared in annual 'Year's Best' anthologies, and he has been published in respected genre magazines in the US, the UK, Israel, Austria, Australia, Singapore, and Vietnam. His short story collection, Neon Leviathan, is out now, and his debut novel, 36 Streets, is published by Titan Books.

Before turning to writing, T. R. Napper was an aid worker, having lived throughout Southeast Asia for over a decade delivering humanitarian programs. During this period, he received a commendation from the Government of Laos for his work with the poor. Napper is also a scholar of East and Southeast Asian literature; he received a creative writing doctorate for his thesis: The Dark Century: 1946 - 2046. Noir, Cyberpunk, and Asian Modernity.

T. R. Napper is a fan of Philip K Dick, Ursula Le Guin, Kazuo Ishuguro, and Kurt Vonnegut, and has a particular obsession with the movie Blade Runner.

After 15 years living in Mongolia, Laos, and Vietnam he now lives in Canberra, Australia. He does not own a cat. Two young boys are quite enough.
or
Not Currently Available for Direct Purchase