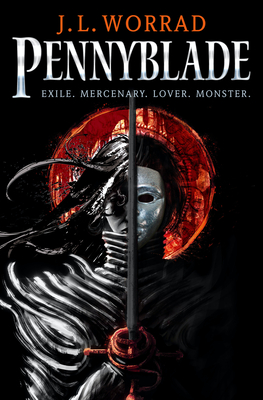 Pennyblade
Paperback

* Individual store prices may vary.
Description
A sharp-tongued disgraced-noble-turned-mercenary has to stop the world collapsing into chaos in this gripping, savagely funny epic fantasy packed with unforgettable characters, for fans of Joe Abercrombie.

Exile. Mercenary. Lover. Monster. Pennyblade.

Kyra Cal'Adra has spent the last four years on the Main, living in exile from her people, her power and her past. A commrach, she's welcome among the humans only for her rapierwork. They don't care about her highblood, which of the gleaming towers she came from, nor that her family aspires to rule the Isle.

On the Main, superstitions and monsters are in every shadow, but Kyra is haunted by the ghost of Shen, the love of her life and lowblood servant she left behind. She survives by wit and blade alone in a land that would see her dead for who she is, for who she loves.

When her fellow pennyblades betray her, Kyra is forced to track the demon preying on the souls of the commoners. She must tear the masks off to see the true face of things, as the age-old conflict between the Main and the Isle threatens to erupt once more.
Praise For Pennyblade…
"Provocative and decadent, crude and funny, and an altogether entertaining fantasy adventure." — Edward Cox, author of The Relic Guild series

"Pennyblade doesn't so much reinvent well-worn fantasy tropes as stab them to death in a dark alley. Kyra Cal'Adra is a lethally alluring protagonist weaving an intricate tale rich in ferocious action and multifaceted intrigue, all topped off by a deliciously vicious twist." – Anthony Ryan, author of Blood Song, The Wolf's Call and more 

"A violent, and wildly imaginative, riot of a book." – R. J. Barker, author of Age of Assassins and The Bone Ships

"The changeling offspring of Jorg Ancrath and Phèdre nó Delaunay. Filthy, furious, wonderful." – Anna Smith-Spark, author of The Court of Broken Knives

"The most fresh and original take on a classic fantasy species I've read since The Grey Bastards. A fun, blood and sex-fueled adventure with a knockout cast of characters, and a surprisingly bitter-sweet love story at its core. I enjoyed the hell out of it!" — Rob Hayes, author of The Mortal Techniques and The War Eternal series

"A fantasy adventure full of violence, passion, chaos and betrayal." — Emerald Archer

"This epic fantasy adventure serves up a fresh take on elves. As well as having detailed world-building, it's expertly paced, with flashbacks and twists in all the right places ... behind the folk horror, it has a subversive undercurrent, often brazenly anti-religion. But it's the romance that serves as the driving force of the story, shining through the cynicism, swordplay and shagging," —SFX 5* review

"A unique take on the fantasy genre that wastes no time building a setting, Pennyblade opens with a fully-fledged world and a fist-full of secrets already in play. What unfolds is a no-holds-barred story of treachery, murder, passion, power and fear." — Book Beard

"One of the most interesting take on elves I think that I've ever seen, and it makes for a fantastically compelling read. Pennyblade is a book filled to the brim with amazing, interesting ideas, with characters that are flawed and awful, yet so wonderful at times too ... I loved every moment of it, I truly hope that this is a world that Worrad revisits in the future, as I'd love to see more." — Trans-Scribe

"I really enjoyed the world and the way Worrad set the tone of the world. It is a harsh and vivid one but one that I was interested in following Kyra go through..[Pennyblade] is definitely for someone who loves horror, fantasy, epic adventures and wants to try something different." — Lara Jane Reviews
Titan Books, 9781789097610, 416pp.
Publication Date: March 29, 2022
About the Author
J.L. Worrad lives in Leicester, England, and has for almost all his life. He has a degree in classical studies from Lampeter University, Wales. He has found this invaluable to his growth as a science fiction and fantasy writer in that he soon discovered how varied and peculiar human cultures can be. In 2011 Worrad attended Clarion, the prestigious six-week SF workshop held at the University of California, San Diego. There, he studied under some of the genre's leading professionals and also got to see a lot of wild hummingbirds. 2018 saw the publication of his first and second novel, the space opera duology 'Feral Space'. He's had short stories published by Daily Science Fiction, Flurb, Newcon Press and Obverse Books. He also writes screen plays for short films, one of which- Flawless was selected for both the Cannes and NYC Independent film festivals.