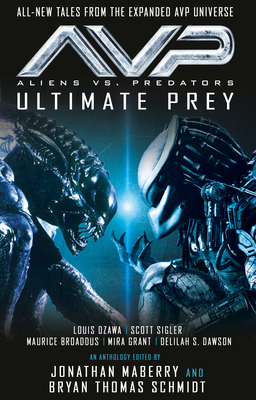 Aliens vs. Predators - Ultimate Prey
Paperback

* Individual store prices may vary.
Description
The first anthology of fifteen original short stories featuring the confluence of two iconic properties, as the Predators seek the ultimate prey, the Xenomorphs from Alien. Featuring Louis Ozawa, Scott Sigler, Maurice Broaddus, Mira Grant, Delilah S. Dawson, and many more!

Fifteen new and original stories for a first-of-its-kind anthology, set in the expanded Aliens vs. Predators Universe.

Here the ultimate hunters, the Predators, pitted against their ultimate prey, the Xenomorphs from Alien, with humans caught in the middle! Taking place on Earth and in distant space, these tales have been crafted by a who's who of today's most talented authors of the fantastic:

David Barnett - Roshni "Rush" Bhatia - Curtist C. Chen - Delilah S. Dawson - Mira Grant - Susanne L. Lambdin - Jess Landry - Yvonne Navarro - E.C. Myers - Scott Sigler - Maurice Broaddus - Chris Ryall - Bryan Thomas Schmidt - Steven L. Sears - Jonathan Maberry and Louis Ozawa.

Inspired by the events of the original Aliens vs. Predators movies, graphic novels, and novels, these are the ultimate life-and-death struggles. Including a new story written by Jonathan Maberry and Louis Ozawa ("Hanzo" from the movie Predators) as Hanzo's brother faces the eternal threats of both the Yautja and the Xenomorphs.

Praise For Aliens vs. Predators - Ultimate Prey…
"Curtis C. Chen and Delilah Dawson delight as always with respective tales of a high school science fair gone awry and a rural homesteader desperate to protect her unborn child. New-to-me David Barnett brings Netflix ghosthunters into the mix in a way that's genuinely delightful." —Black Gate

PRAISE FOR THE EDITORS

"Most of the tales involve confrontations between marines and xenomorphs, but there are enough surprises to make every fan smile. I enjoyed every story from Aliens: Bug Hunt."—GeekDad

"If you loved the movie then you'll no doubt enjoy the book. Jonathan Maberry has put together a terrific bunch of stories."—Horror Talk on Bug Hunt

"Aliens: Bug Hunt has such a variety of stories that span difference creatures and scenarions… horror-driven science fiction that Jonathan Maberry promised."—Gamers Sphere

"Get to the Bookstore! ...a solid anthology of well-written Yautja-centric stories that you won't want to miss."—Adventures in Poor Taste on Predator: If It Bleeds

"If It Bleeds is a solid collection of short stories… The collection of authors is topnotch for sci-fi and horror fans."—Ravenous Monster
Titan Books, 9781789097948, 448pp.
Publication Date: March 1, 2022
About the Author
BRYAN THOMAS SCHMIDT is the Hugo-nominated bestselling editor of anthologies including Predator: If It Bleeds, Infinite Stars, and AVP: Ultimate Prey (with Jonathan Maberry).

JONATHAN MABERRY, creator of Joe Ledger and Rot and Ruin, is a New York Times best-selling, five-time Bram Stoker Award-winning author, editor, playwright, content creator, teacher and lecturer.