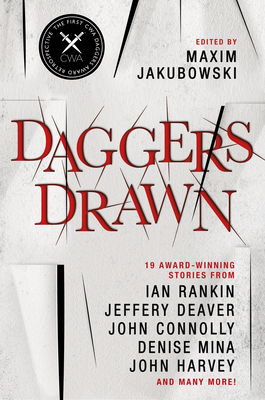 Daggers Drawn
Hardcover

* Individual store prices may vary.
Other Editions of This Title:
Compact Disc (12/21/2021)
MP3 CD (12/21/2021)
Paperback (8/2/2022)
Description
Edgy, twisted and disturbing, the first Crime Writers' Association Daggers Award retrospective anthology featuring 19 visceral and thrilling stories.

Featuring bestselling authors Ian Rankin, Jeffery Deaver, John Connolly, Denise Mina, John Harvey and more.

NINETEEN CWA DAGGER AWARD-WINNING SHORT STORIES FROM THE BEST OF THE BEST IN CRIME FICTION

The first retrospective of the CWA's Dagger Award winners, brings together some of the greatest names in crime fiction to deliver a cutthroat collection of serial killers, grizzled detectives, drug dealers and master forgers.

Observe as a Senior Curator at the Tate Gallery constructs the perfect crime in Ian Rankin's "Herbert in Motion". Watch an unlikely romance sour into a deadly obsession in Stella Duffy's "Martha Grace". Face parents who discover their child has committed the unthinkable in Denise Mina's "Nemo Me Impune Lacessit". And in Jeffery Deaver's "The Weekender" an intense hostage situation hits its peak in the most unlikely conclusion.

Keep your secrets close, and your daggers drawn.

Featuring: Peter O' Donnell (writing as Madeleine Brent), Julian Rathbone, Larry Beinhart, Ian Rankin, Jerry Sykes, Stella Duffy, Jeffery Deaver, Peter Lovesey, Cath Staincliffe, Margaret Murphy, John Harvey, Richard Lange, L. C. Tyler, Denise Mina, Danutah Reah and Lauren Henderson.
Praise For Daggers Drawn…
"A well written sharp, incisive crime story (much like a dagger thrust should be) is a thing of beauty. There are many in this anthology. Read and enjoy."
– Frost Magazine

"Quality and variety... are guaranteed."
– Morning Star

"Chilling and crafty, and full of devious characters. Not all of the victims are innocent, and the effects of each story will linger long after you close the volume."
– The Girl Who Reads

"It's good to see earlier contributions from such luminaries as Peter O'Donnell, Julian Rathbone and Larry Beinhart among the star-studded cast which features Ian Rankin, Jeffrey Deaver, Denise Mina and John Harvey."
– Shots Mag

"The daggers are drawn, business ends out. An absolute must read for all crime fiction fans."
– Advance the Plot

"Edgy, twisted and disturbing, Daggers Drawn is a visceral and thrilling collection showcasing the very best modern crime fiction has to offer."
– Book Lover's Boudoir

"[A]n overall entertaining tale of short stories with quite a few enjoyable tales to entice the reader."
– Run Along the Shelves

"I'd definitely recommend this great collection for anyone who is a crime fiction fan."
– Snazzy Books

"[A]n engrossing and entertaining read."
– Annarellix Review
Titan Books, 9781789097986, 384pp.
Publication Date: September 21, 2021
About the Author
Maxim Jakubowski is a noted anthology editor with over 70 volumes to his credit, including Invisible Blood, the 13 annual volumes of The Mammoth Book of Best British Mysteries, and titles on Professor Moriarty, Jack the Ripper, Future Crime and Vintage whodunits. A publisher for over 20 years, he was also the co-owner of London's Murder One bookstore and the crime columnist for Time Out and then The Guardian for 22 years. Stories from his anthologies have won most of the awards in the field on numerous occasions. He is currently the Vice Chair of the Crime Writers' Association and a Sunday Times bestselling novelist in another genre.