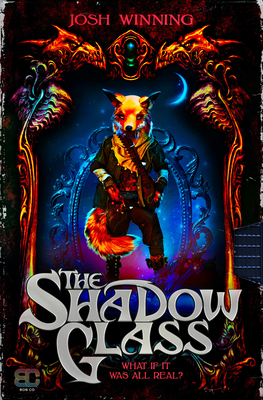 The Shadow Glass
Paperback

* Individual store prices may vary.
Other Editions of This Title:
Digital Audiobook (3/21/2022)
Digital Audiobook (3/21/2022)
Mass Market (3/28/2023)
Description
A thrilling race against the clock to save the world from fantasy creatures from a cult 80s film. Perfect for fans of Henson Company puppet classics such as Labyrinth, Dark Crystal and The Never-Ending Story.

Jack Corman is failing at life.

Jobless, jaded and on the "wrong" side of thirty, he's facing the threat of eviction from his London flat while reeling from the sudden death of his father, one-time film director Bob Corman. Back in the eighties, Bob poured his heart and soul into the creation of his 1986 puppet fantasy The Shadow Glass, a film Jack loved as a child, idolising its fox-like hero Dune.

But The Shadow Glass flopped on release, deemed too scary for kids and too weird for adults, and Bob became a laughing stock, losing himself to booze and self-pity. Now, the film represents everything Jack hated about his father, and he lives with the fear that he'll end up a failure just like him.

In the wake of Bob's death, Jack returns to his decaying home, a place creaking with movie memorabilia and painful memories. Then, during a freak thunderstorm, the puppets in the attic start talking. Tipped into a desperate real-world quest to save London from the more nefarious of his father's creations, Jack teams up with excitable fanboy Toby and spiky studio executive Amelia to navigate the labyrinth of his father's legacy while conjuring the hero within––and igniting a Shadow Glass resurgence that could, finally, do his father proud.
Praise For The Shadow Glass…
"Thrilling suspense and action..will satisfy anyone who has ever fallen in love with a story." - Foreword Reviews - Starred Review

"There's a stirring sense of adventure, excitement, and terror running throughout...a treat for fans of the movies that inspired it." - Publishers Weekly 
"The fantasy adventure my 80s-loving heart needed! Loaded with unforgettable characters, a thrilling quest, and the best 80s pop culture references, I loved every moment." — Kat Ellis, author of Harrow Lake

"The Shadow Glass is like the old children's movies it worships: sometimes dark, but never heartless; gritty yet soulbaring. It embraces its referents as a whole: their beauty with their ugliness, the healing power of nostalgia with its potential to poison the present. But it never goes cynical, never loses faith. It stands proud with a VHS copy of its favorite movie held aloft, daring you to say it's not the greatest film ever." — Edgar Cantero, author of Meddling Kids

"Wonderful. A bold and heartfelt adventure from another world, another time—and our own." – Max Gladstone, Hugo and Nebula Award-winning writer

"Bringing together an artful blend of nostalgic references, emotionally-wrenching characterisation, and stunning worldbuilding, Josh Winning's "The Shadow Glass" is a delight of a debut." — Tori Bovalino, author of The Devil Makes Three and Not Good For Maidens

"Epic, edge-of-your-seat fantasy in its own right, with just enough horror to keep things interesting. The world-building is fantastic, but it's the beautifully drawn characters that I think will capture readers' hearts, as they force us to think about growing up, growing old, and the importance of hanging on to that sense of wonder that the best fantasy (like The Shadow Glass itself) can inspire." — Elizabeth Corr and Katharine Corr, authors of The Witch's Kiss trilogy

"Henson Heads, rejoice! Of the myriad of pleasures Josh Winning conjures within his stunning novel The Shadow Glass, perhaps my personal darling is the rendering of a complete and hereunto unexplored cinematic fantasia that could easily stand alongside such practical FX classics as The Dark Crystal, Labyrinth and The NeverEnding Story. I was instantly transported back to the video store of my youth, sent down the fantasy aisle once again, where these pre-CGI pleasures of puppetry reside... and magic still exists." — Clay McLeod Chapman, author of The Remaking and Whisper Down the Lane

"Packed with heart and featuring a plot as fiendish as any Goblin King's labyrinth, The Shadow Glass is a masterpiece!" — William Hussey, Award-winning author of Hideous Beauty and The Outrage

"A blast of big-hearted fantasy fun, The Shadow Glass will have 1980s nostalgists digging back through their VHS collections with glee." – Matt Glasby, author of The Book of Horror

"A thrilling and deeply emotional coming-of-age-in-your-30s quest that perfectly conjures up the feeling of being a viewer fully immersed in the tantalisingly dark worlds of Jim Henson's 1980s fantasy films while also weaving a heartfelt tale about grief, denial, the complicated relationships between parents and children, and reconciling one's childhood with the adult you've become. Suspenseful, funny, imaginative, and often as creepy as a Skeksis banquet, The Shadow Glass is a must-read for any fan of Henson or '80s fantasy in general who ever dreamed of what it might be like if the Creature Shop actually came to life." — Robert Berg, HensonBlog.com

"You don't have to be a child of the '80s to appreciate The Shadow Glass. There's enough magic within these pages to dress you in leg warmers and take you there. Nostalgic, heartfelt, and bristling with humor. An absolute corker!" — Rio Youers, author of No Second Chances

"The Shadow Glass is surprising, playful, and wholly its own. I've never read anything like it - it was a daring, refreshing read: a weird banger. I can't stop thinking about it: because it is a love song to a very particular kind of nostalgia, it feels both deeply familiar while also being entirely unique. I loved it. — Sara Maria Griffin, award-winning author of Other Words for Smoke

"There's a stirring sense of adventure, excitement, and terror running throughout ... this is a treat for fans of the movies that inspired it." — Publishers Weekly
Titan Books, 9781789098617, 400pp.
Publication Date: March 22, 2022
About the Author
Josh Winning is a senior film writer at Radio Times. He is contributing editor at Total Film magazine, writer at SFX and Den of Geek, and the co-host of movie podcast Torn Stubs. He has been on set with Kermit the Frog (and Miss Piggy), devoured breakfast with zombies on The Walking Dead, and sat on the Iron Throne on the Dublin set of Game of Thrones. Josh lives in London and dreams of one day convincing Sigourney Weaver to yell "Goddammit!" at him.