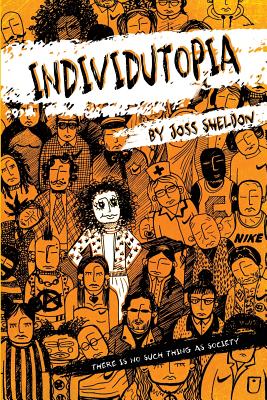 Individutopia (Paperback)
A novel set in a neoliberal dystopia
Joss Sheldon, 9781789263589, 176pp.
Publication Date: August 23, 2018
Other Editions of This Title:
Hardcover (8/2/2019)
Paperback, Large Print (8/23/2018)
Hardcover (8/23/2018)
Hardcover (5/19/2019)
Paperback (5/19/2019)
* Individual store prices may vary.
Description
THE #1 BEST-SELLING AUTHOR HAS RETURNED WITH AN ORWELLIAN CLASSIC...
Get your copy of Joss Sheldon's radical novel today.

Beloved friend,
The year is 2084, and that famous Margaret Thatcher quote has become a reality: There really is no such thing as society. No one speaks to anyone else. No one looks at anyone else. People don't collaborate, they only compete.
I hate to admit it, but this has had tragic consequences. Unable to satisfy their social urges, the population has fallen into a pit of depression and anxiety. Suicide has become the norm.
It all sounds rather morbid, does it not? But please don't despair, there is hope, and it comes in the form of our hero: Renee Ann Blanca. Wishing to fill the society-shaped hole in her life, our Renee does the unthinkable: She goes in search of human company It's a radical act and an enormous challenge. But that, I suppose, is why her tale's worth recounting. It's as gripping as it is touching, and I think you're going to love it...
Your trusty narrator,
PP
Perfect for fans of "1984" and "A Brave New World". Not so great for neoliberals...
Praise for Individutopia:
"Gloriously colourful" - The Canary "An exciting tale" - The Dallas Sun "Outstanding" - We Art Friends "Riveting" - Publishers Weekly "An epiphany" - The Avenger "A must-read" - The Bay Net "So relevant" - Medium
SCROLL UP AND GRAB A COPY NOW
or
Not Currently Available for Direct Purchase