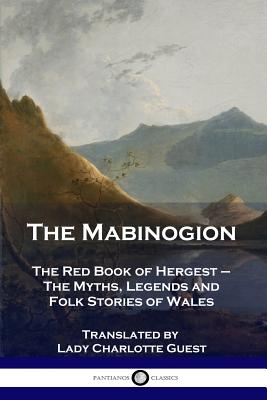 The Mabinogion (Paperback)
The Red Book of Hergest - The Myths, Legends and Folk Stories of Wales
Pantianos Classics, 9781789870688, 172pp.
Publication Date: December 18, 2018
Other Editions of This Title:
Paperback (1/2/2014)
Paperback (3/30/2014)
Paperback (8/31/2012)
Paperback (6/23/2019)
Paperback (11/14/2018)
Paperback (10/30/2018)
Paperback (11/25/2013)
Paperback (5/22/2019)
Paperback (9/30/2018)
Paperback (2/26/2017)
Paperback (12/14/2018)
Paperback (9/30/2018)
Hardcover (10/30/2018)
Paperback (8/6/2018)
Hardcover (5/22/2019)
Paperback (6/24/2018)
Hardcover (8/31/2012)
Paperback (10/2/2019)
Hardcover (3/29/2014)
* Individual store prices may vary.
Description
The Mabinogion consists of the earliest prose literature in Great Britain, the manuscripts of which originate in 12th century Welsh, with some dating earlier, to the oral tradition of the Middle Ages.
Many of the stories in the Mabinogion would become famous anew thanks to the efforts of the translator. Rendered in modern English, the narratives of an era long departed reflect the time - events such as war, the idea of chivalric romance, and the prevalence of sorcery and mystical goings on are common devices in the stories. Much of what is here was passed onto other, later authors - the notion of the Medieval era as one laden with strange beasts, magic, and valiant combat originates with tales like those in the Mabinogion.
This edition of the ancient stories was translated by Lady Charlotte Guest, an English aristocrat who was most famous for this work. Accomplished with languages from a young age, she gathered from obscure archives the manuscripts, arranged and presented them in modern English to an audience hitherto unfamiliar with the stories in their original form. Attentive readers will notice inspirations and similarities with English romances and other lore, but also the unique and distinct Welsh culture.
Appended to this reprint are Guest's original notes, plus the verses of the Taliesin which is the book's concluding story. In all, this collection offers a sublime window to Welsh culture and folklore.