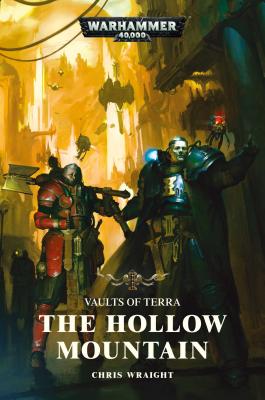 Vaults of Terra
The Hollow Mountain (Warhammer 40,000)
Paperback

* Individual store prices may vary.
Description
Book 2 in the Vaults of Terra mini-series. Discover what happens when Chaos comes to the Throneworld itself for the first time in ten millennia.....

Inquisitor Erasmus Crowl has discovered a terrible plot, its roots firmly planted in the very highest levels of Terra. Pursuing it is fraught with risk, but Crowl's sense of duty compels him to persevere. He and his acolyte Spinoza run down their leads in secret, knowing that their every move invites danger, but even as they begin to reveal the truth, a greater peril is unfolding in the skies – the Great Rift is becoming manifest. During the madness that threatens to tear Terra asunder, Crowl's Inquisitorial base of operations comes under attack and is badly ravaged. As his world begins to unravel and a new, bloody age dawns, can Crowl stay true to his course and expose the horror that lies at the heart of the Hollow Mountain?
Games Workshop, 9781789990300, 352pp.
Publication Date: February 4, 2020
About the Author
Chris Wraight is the author of the Horus Heresy novels Scars and The Path of Heaven, the Primarchs novels Leman Russ: The Great Wolf and Jaghatai Khan: Warhawk of Chogoris, the novellas Brotherhood of the Storm and Wolf King, and the audio drama The Sigillite. For Warhammer 40,000 he has written The Lords of Silence, Vaults of Terra: The Carrion Throne, Vaults of Terra: The Hollow Mountain, Watchers of the Throne: The Emperor's Legion, the Space Wolves novels Blood of Asaheim and Stormcaller, and many more. Additionally, he has many Warhammer novels to his name, including the Warhammer Chronicles novel Master of Dragons, which forms part of the War of Vengeance series. Chris lives and works in Bradford-on-Avon, in south-west England.