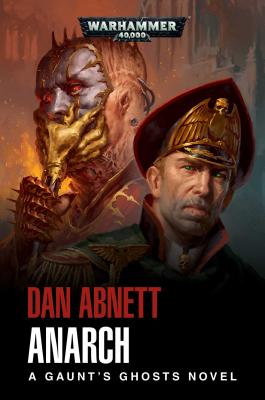 Anarch (Warhammer 40,000) (Paperback)
Games Workshop, 9781789990317, 544pp.
Publication Date: January 21, 2020
Other Editions of This Title:
Hardcover (2/5/2019)
* Individual store prices may vary.
Description
Book 15 in the hugely popular Gaunt's Ghosts series. The Victory arc concludes as beloved characters are put in more danger than you'll be able to bear. Fair warning: they're not all going to get out alive.

Men of Tanith… do you want to live forever?'

On the forge world of Urdesh, the massed forces of the Imperial Crusade engage in a final bloody battle with the Archenemy commander known as the Anarch, and his elite warriors - the barbaric Sons of Sek. A victory for either side will decide more than just the fate of Urdesh… it will determine the outcome of the entire Sabbat Worlds Crusade. Ibram Gaunt – now serving at the right hand of Warmaster Macaroth – finds himself at the very heart of the struggle. His regiment, the Tanith First "Ghosts", holds the vital key to ultimate success. But as the forces of the Imperium and Chaos square up for the final, large-scale confrontation, Gaunt discovers that the greatest threat of all may come from inside rather than out.
About the Author
Dan Abnett has written over fifty novels, including Anarch, the latest instalment in the acclaimed Gaunt's Ghosts series. He has also written the Ravenor and Eisenhorn books, the most recent of which is The Magos. For the Horus Heresy, he is the author of Horus Rising, Legion, The Unremembered Empire, Know No Fear and Prospero Burns, the last two of which were both New York Times bestsellers. He also scripted Macragge's Honour, the first Horus Heresy graphic novel, as well as numerous audio dramas and short stories set in the Warhammer 40,000 and Warhammer universes. He lives and works in Maidstone, Kent.