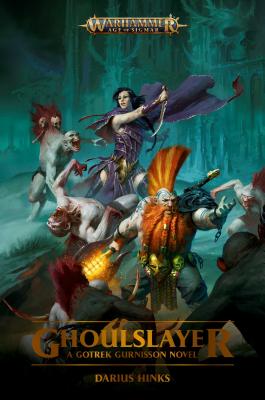 Ghoulslayer (Warhammer
Age of Sigmar)
Paperback

* Individual store prices may vary.
Description
Gotrek Gurnisson is back and he's in the Mortal Realms....his axe is poised and he's ready for anything! A must read for fans of this truly iconic character

In the bleak, haunted underworld of Shyish, a vengeful Slayer seeks the Lord of Undeath. Gotrek Gurnisson returns, his oaths now ashes alongside the World-That-Was, his fury undiminished. Branded with the Master Rune of Grimnir, the God that betrayed him, and joined by Maleneth Witchblade, a former Daughter of Khaine and turned agent of the Order of Azyr, the hunt has taken them far and wide through the Realm of Death. Will Gotrek find a path to the Undying King or will the underworlds claim him as their own?

Games Workshop, 9781789990553, 320pp.
Publication Date: March 31, 2020
About the Author
Darius Hinks is the author of the Warhammer 40,000 novel Blackstone Fortress and three novels in the Mephiston series, Mephiston: Blood of Sanguinius, Mephiston: Revenant Crusade and Mephiston: City of Light. He also wrote the novella Sanctus. For Warhammer, he wrote Warrior Priest, which won the David Gemmell Morningstar Award for best newcomer, as well as the Orion trilogy, Sigvald and several novellas. His work for Age of Sigmar includes Stormcast, Warqueen and the Gotrek Gurnisson novel Ghoulslayer.
or
Not Currently Available for Direct Purchase