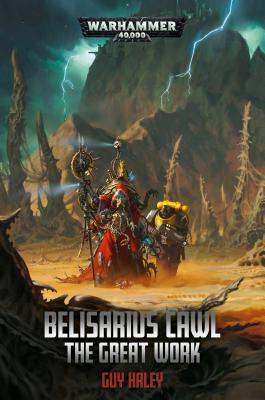 Belisarius Cawl
The Great Work (Warhammer 40,000)
Paperback

* Individual store prices may vary.
Description
Warhammer 40,000 fans rejoice - Belisarius Cawl has his own novel! Join him on his journey to the abandoned world of Sotha which hides a long-buried secret… and an ancient evil.

Belisarius Cawl, Archmagos Dominus of the Adeptus Mechanicus is the most brilliant mind alive. For 10,000 years he has furthered the cause of mankind, working under the aegis of the Emperor and Lord Commander Roboute Guilliman to prevent the inexorable march of the alien and the traitor. Many call him heretic, but all must recognise the magnitude of his achievements, for who else but he was entrusted to create a new generation of Space Marines? Who else but the great Belisarius Cawl could even accomplish such a task?
Now, in the wake of the Great Rift and the Indomitus Crusade, his ambitions bring him to the long-dead world of Sotha, once home to the Scythes of the Emperor, now a barren wasteland devoured by the vile Tyranids. Accompanied by Tetrarch Felix and his elite warriors, it is here that Cawl believes the lynchpin of his mysterious Great Work lies. But uncovering it is a near impossible task, one in which the Archmagos must overcome an ancient evil that threatens to extinguish the last hope of humanity.

Games Workshop, 9781789990584, 416pp.
Publication Date: March 17, 2020
About the Author
Guy Haley is the author of the Siege of Terra novel The Lost and the Damned, as well as the Horus Heresy novels Titandeath, Wolfsbane and Pharos, and the Primarchs novels Konrad Curze: The Night Haunter, Corax: Lord of Shadows and Perturabo: The Hammer of Olympia. He has also written many Warhammer 40,000 novels, including Belisarius Cawl: The Great Work, Dark Imperium, Dark Imperium: Plague War, The Devastation of Baal, Dante, Darkness in the Blood, Baneblade and Shadowsword. His enthusiasm for all things greenskin has also led him to pen the eponymous Warhammer novel Skarsnik, as well as the End Times novel The Rise of the Horned Rat. He has also written stories set in the Age of Sigmar, included in War Storm, Ghal Maraz and Call of Archaon. He lives in Yorkshire with his wife and son.