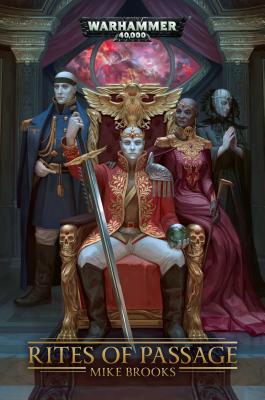 Rites of Passage (Warhammer 40,000) (Paperback)
Games Workshop, 9781789990591, 336pp.
Publication Date: March 17, 2020
* Individual store prices may vary.
Description
For fans of political intrique and machinations. The death of Lord Azariel, head of the Navigator House Brobantis, draws his widow into a dark world of ritual killings and cult murders, while larger plans are at work and entire worlds are threatened…

Lord Azariel, Head of the Navigator House Brobantis is dead. His widow and murderer, the Lady Chettamandey, stands to inherit his power and influence. Her plans for ascension are curtailed when she's drawn into a dark world of ritual killings and cult murders, with planets being dragged into the warp seemingly at a whim, the threat to Chettamandey's legacy is dire, and only she can avert potential disaster
About the Author
Mike Brooks is a speculative fiction author who lives in Nottingham, UK. His work for Black Library includes the Warhammer 40,000 novel Rites of Passage, the Necromunda novella Wanted: Dead, and the short stories 'The Path Unclear', 'A Common Ground' and 'Choke Point'. When not writing, he works for a homelessness charity, plays guitar and sings in a punk band, and DJs wherever anyone will tolerate him.