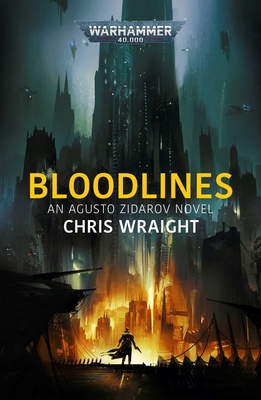 Bloodlines (Warhammer 40,000)
Paperback

* Individual store prices may vary.
Description
The first title in the new "Warhammer Crime" imprint. Try to unravel the secrets lurking in the sprawling city of Varangantua.

In the immense city of Varangantua, life is cheap but mistakes are expensive. When Probator Agusto Zidarov of the city's enforcers is charged with locating the missing scion of a wealthy family, he knows full well that the chances of finding him alive are slight. The people demanding answers, though, are powerful and ruthless, and he is soon immersed in a world of criminal cartels and corporate warfare where even an enforcer's survival is far from guaranteed. As he follows the evidence deeper into the city's dark underbelly, he discovers secrets that have been kept hidden by powerful hands. As the net closes in on both him and his quarry, he is forced to confront just what measures some people are willing to take in order to stay alive…
Warhammer Crime, 9781789991604, 384pp.
Publication Date: August 18, 2020
About the Author
Chris Wraight is the author of the Horus Heresy novels Scars and The Path of Heaven, the Primarchs novels Leman Russ: The Great Wolf and Jaghatai Khan: Warhawk of Chogoris, the novellas Brotherhood of the Storm, Wolf King and Valdor: Birth of the Imperium, and the audio drama The Sigillite. For Warhammer 40,000 he has written The Lords of Silence, Vaults of Terra: The Carrion Throne, Vaults of Terra: The Hollow Mountain, Watchers of the Throne: The Emperor's Legion, the Space Wolves novels Blood of Asaheim and Stormcaller, and many more. Additionally, he has many Warhammer novels to his name, including the Warhammer Chronicles novel Master of Dragons, which forms part of the War of Vengeance series. Chris lives and works in Bradford-on-Avon, in south-west England.
or
Not Currently Available for Direct Purchase