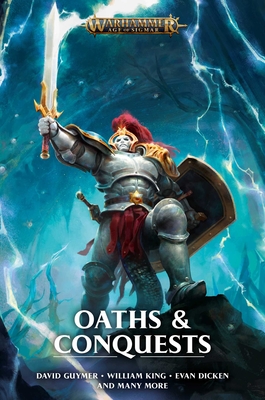 Oaths and Conquests (Warhammer (Paperback)
Age of Sigmar)
Games Workshop, 9781789992250, 416pp.
Publication Date: August 18, 2020
* Individual store prices may vary.
Description
Fantastic anthology of stories from the Mortal Realms.

The Mortal Realms are burning.
The hope brought by Sigmar's storm is now nothing more than a dwindling light against the darkness of Chaos, as mighty warlords rise to prominence and teeming hordes of ratmen and greenskins threaten to topple civilisation altogether. Stormcast and mortal alike take up arms in defence of the bastions of Order, united in their hatred of Chaos. But every warrior killed in battle strengthens the legions of Nagash, which march relentlessly in their crusade against the living.
This Age of Sigmar anthology includes thirteen tales concerning the oaths of the righteous, and the conquests of the damned.
By William King, David Guymer, Anna Stephens, Robert Rath, Dale Lucas and many more…

About the Author
William King is the author of the Tyrion and Teclis saga and the Macharian Crusade trilogy, as well as the much-loved Gotrek & Felix series and the Space Wolf novels. His short stories have appeared in many magazines and compilations, including White Dwarf and Inferno!. Bill was born in Stranraer, Scotland, in 1959 and currently lives in Prague.