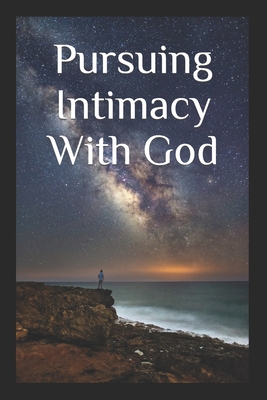 Pursuing Intimacy With God (Paperback)
An Intimate Personal Relationship With Jesus Christ
Independently Published, 9781790388219, 148pp.
Publication Date: November 27, 2018
* Individual store prices may vary.
Description
New Expanded Edition - 40% more material. Pursuing Intimacy With God Bible study books & site to help you grow closer to God and enjoy intimacy with God. Our site includes many Bible studies for life and a large variety of Bible study topics. The Bible study book includes Bible study topics on Intimacy With God, Walking With God, How to Pray to God, Prayer in the Bible, How to Study the Bible, How to Seek God With All Your Heart, How to Hear God's Voice, Meditate on God's Word, True Worship in the Bible, Praise As A Spiritual Weapon, Praise Is Placing A High Value on God, How to Have Abundant Life, God's Calling For Your Life, God's Promises in the Bible, Faith Is Vital For Intimacy With God, Waiting on God, God's Purpose & Mission For His Church, Revival & Spiritual Awakening, The Kind of Christian & Church God Wants... The PIWG Bible Study Book is ideal for individuals, or for small groups, Sunday School classes, and discipleship classes at your church Pursuing Intimacy With God website: www.intimacywithgod.com God has used the PIWG Bible studies to bless many people: "Words to appreciate I just can't find but please accept my gratitude. The study has really transformed my life and family." - Samuel, Kenya "The time and effort you sow into reaching thousands of people globally has and continues to touch lives and edify the body of Christ. I am thankful to God and to your ministry for your work." - Carlos, South Africa "We want you to know how much this guide has been a blessing to us. We have been using it on a regular basis and I'm sure it will always be a resource in our permanent library. Keep doing what you are doing. This has really changed our lives."- Carrie, US "What an awesome thing that your ministry is sharing with the world. God's word is user friendly, spoken as Jesus did where all can understand and want to learn more of Jesus, study more and do his will. I have never found such detailed shared information of God's word all in one book." - Ruby, US "Thank you so much for your site. I've benefited so much from it and it has helped me so much in my relationship with Jesus ." - Zsuzsi, Hungary "What I've read so far is an overwhelming refreshing shower to my spirit. To discover a ministry that focuses on loving God is so utterly a confirmation to me. What could be more important? Fathomless depths. Thank you for your precious hearts." - Julia, US "I wanted to say thanks for this site. This is what God is doing in my life. Drawing me into intimacy." - Stephen, Australia "I am in awe of the study book. I did not expect to receive so much information. Thank you." - Olivia US "I have been blessed by your site & studies." - Dorota, Poland "The study was excellent I could understand it. It was done beautifully & simply. God has changed our lives through this study. We are both working for a soft and humble heart." - Nancy, US "I cant thank you enough; your help is much appreciated and I am so grateful towards you for this." - John, Ireland "I will certainly join in praying for you as you continue to work with it as the Lord directs. Those weeks of study were so very meaningful to me - Reid, US "Hi, Thank you for publishing this great material." - Johan, South Africa "I have been much blessed by your Intimacy With God program. May God bless you. Many will be blessed by this" - Purna, Nepal.