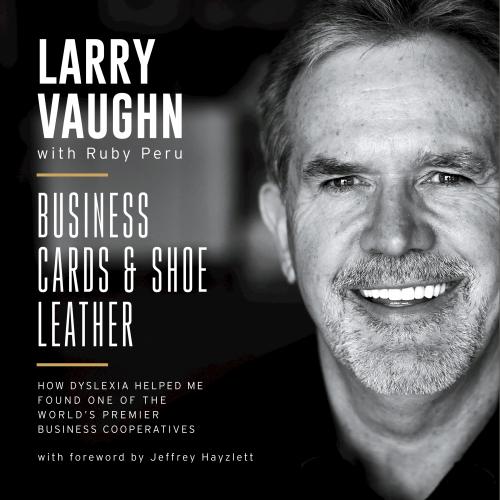 Business Cards and Shoe Leather (Paperback)
how dyslexia helped me found one of the world's premier business cooperatives
Pangloss Press, 9781790932191, 209pp.
Publication Date: May 5, 2019
* Individual store prices may vary.
Description
in his memoir, Business Cards and Shoe Leather, Larry Vaughn inspires with his story of becoming a successful businessman despite being functionally illiterate. Larry grew up in the 1960's, before dyslexia was widely understood. He achieved by building relationships and working hard: qualities in keeping with his small town values. Finally, in his fifties, after a public humiliation borne of trying to hide his illiteracy, Larry taught himself to read. Shoe Leather speaks of his discovery that the dyslexic mindset actually has a lot of advantages, like the "big picture" thinking that helped Larry succeed in the cutting-edge world of digital print. Larry Vaughn helped found two premier, international business cooperatives: DSCOOP and thINK. He built his career in the commercial print business on the principle that business thrives on cooperation, not competition, and instills that mindset in his many young mentees.
About the Author
Growing up in the 1960's, in the small town of Carlsbad, New Mexico, Larry Vaughn knew he was different. While he struggled with reading and writing, he excelled at "big picture thinking." Later, as a successful businessman in his fifties, a public embarrassment forced Vaughn to confront his language problem and learn there was a name for it: dyslexia. This unique type of brain wiring has been equally responsible for Vaughn's greatest frustrations and successes. A big proponent of business mentoring, Vaughn has founded two premier, international business cooperatives: DSCOOP and thINK. He lives in Houston with his wife, son, daughter, and two adorable grandbabies.
Praise For Business Cards and Shoe Leather: how dyslexia helped me found one of the world's premier business cooperatives…
Good things happen to those who steamroll their obstacles, and Larry has certainly done that! Like many of us of a certain age, Larry didn't fully understand what "dyslexia" meant until later in life, but it never held him back. Now, he is a successful international speaker. Business Cards and Shoe Leather is a testament to his innovative mindset.
Jeffrey Hayzlett
primetime TV & podcast host
speaker, author, and part-time cowboy


or
Not Currently Available for Direct Purchase