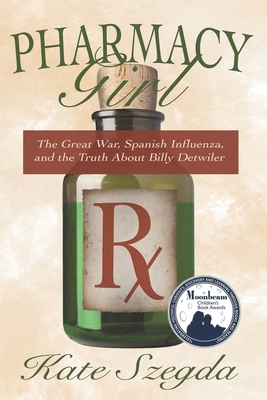 Pharmacy Girl
The Great War, Spanish Influenza, and the Truth about Billy Detwiler
Paperback

* Individual store prices may vary.
Description
A story of hope and survival
Before COVID there was Spanish influenza. In 1918 there were masks. Schools, restaurants, and even churches closed. A nation at war curtailed the draft. One in four Americans stricken, and an estimated 675,000 Americans dead. All because of a deadly germ carried on a puff of air. But there were no effective vaccines. No ventilators. No medicines to stop a virus. And a war to win. Everyone likes Josie, except the spoiled and arrogant Billy Detwiler. He calls her Pharmacy Girl, but it is no compliment. As the hazy days of September 1918 drift into the deadly autumn of Spanish influenza, Josie's everyday problems of school and friends, even the war effort at home, become insignificant when her mother comes down with the flu. But Josie is no slacker. She faces Billy in a class election, raises money for the Liberty Loan, and steps up to help her family when the pandemic strikes home. 2021-2022 California Teachers' Association, California Reads selection
2021 Readers' Favorite International Book Award Finalist, Children's Pre-teen Fiction
2020 National Federation of Press Women 2nd Place Award for Children's Fiction
2020 Delaware Press Association Award for Children's Fiction
2020 American Book Fest, Best Book Awards, Finalist, Children's Fiction
2019 Moonbeam Children's Fiction Silver Medal for Pre-teen Historical/Cultural Fiction
Independently Published, 9781791660574, 312pp.
Publication Date: February 5, 2019