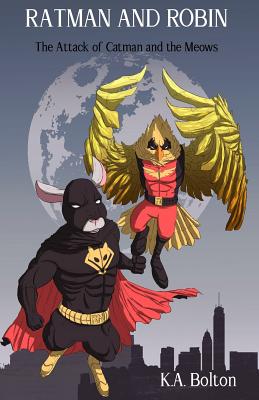 Ratman And Robin
The Attack of Catman and the Meows
Paperback

* Individual store prices may vary.
Description
"Ratman and Robin got my 2nd grader to start reading" - Amazon Reviewer
"My 9 year old son absolutely loves this book " - Amazon Reviewer
Squeaker is a pet rat, and like all pet rats he HATES cats. He has hated them ever since they killed his parents and made him an orphan - but the good news is, he was taken in by 8-year-old Billy and his parents, and he loves them dearly. Squeaker thought he could put the past behind him.... but as he soon discovers, he was wrong.
Now, Squeaker has a big problem - Cats are in town, and they're up to no good.
To protect his new family, Squeaker and his best friend Birdie must transform into their caped-crusader alter egos: Ratman and Robin With the cats on the prowl, the fearless pair must take them on in a series of action-packed combat and daring escapades.
Will Squeaker be able to stop the cats and save his family this time around, or will he lose it all?
Laugh-out-loud funny, entertaining, and packed with action, Ratman and Robin is the perfect gift to get your child off screens and into books Resolve to grow a reader - give your child, grandchild, student, niece or nephew the gift of reading
Grab your copy today
Independently Published, 9781792612145, 132pp.
Publication Date: December 30, 2018