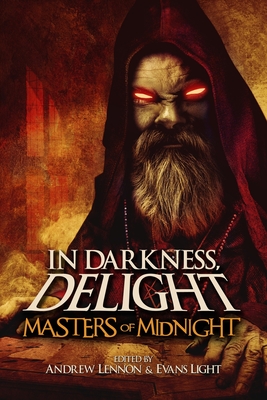 In Darkness, Delight (Paperback)
Masters of Midnight
Independently Published, 9781792657856, 298pp.
Publication Date: March 11, 2019
Other Editions of This Title:
Hardcover (3/31/2019)
* Individual store prices may vary.
Description
Midnight strikes like an invocation, clock hands joining in prayer to the darkness. After the twelfth chime, there's no escaping the nightmare.
Fear reigns supreme.
In Darkness, Delight is an original anthology series revealing the many faces of modern horror- shocking and quiet, pulp and literary, cold-hearted and heart-felt, weird tales of spiraling madness alongside full-throttle thrillers. Open these pages and unleash all-new terrors that consume from without and within.

Midnight is here. It's now time to find . . . In Darkness, Delight.
Featuring:
Josh Malerman: One Thousand Words on a Tombstone - Delores Ray

William Meikle: Refuge

Jason Parent: Violet

Ryan C. Thomas: Who Are You?

Mark Matthews: Tattooed All in Black

Evans Light: One Million Hits

Lisa Lepovetsky: Kruze Nite

Israel Finn: The Pipe

Patrick Lacey: In the Ground
John McNee: Dogsh*t Gauntlet

Michael Bray: Letters

Monique Youzwa: Rules of Leap Year

Billy Chizmar: Mirrors

Espi Kvlt: Pulsate

Paul Michaels: Angel Wings

Andrew Lennon: Run Rabbit Run

Joanna Koch: Every Lucky Penny is Another Drop of Blood