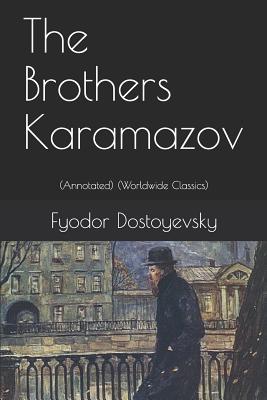 The Brothers Karamazov (Paperback)
(annotated) (Worldwide Classics)
Independently Published, 9781793071316, 602pp.
Publication Date: January 2, 2019
Other Editions of This Title:
Digital Audiobook (7/31/2007)
Paperback (7/11/2011)
Paperback (6/12/2019)
Paperback (10/10/2013)
Paperback (9/23/2013)
Paperback (5/19/2019)
Paperback (7/15/2010)
Paperback (10/1/2014)
Paperback (12/3/2011)
Hardcover (9/29/2015)
Hardcover (6/12/2019)
* Individual store prices may vary.
Description
The Brothers Karamazov is a novel with a simple plot about a murder, and a complex discussion of faith, doubt, and morality. We begin with the father, Fyodor Karamazov. Fyodor is a cruel and lustful man who has fathered three sons: Dmitri, a man driven by his passions; Ivan, a man driven by his intellect; and Alexei, also called Aloysha, who is driven by his faith in Christ. He was cruel to the boys and their mothers, and sent the boys away to be raised by others.Dmitri, the oldest son, comes of age and returns to see his father to ask for his inheritance. Although, Dmitri is engaged to a beautiful girl named Katerina, he has fallen in love with a woman named Agrafena, also known as Grushenka, and wants to run off with her. Fyodor laughs at this request for money, and it is revealed that Fyodor and Dmitri are romantic rivals for the love of Grushenka. Dmitri and Ivan hate and are embarrassed by their father. Alexei, who was raised in the monastery and mentored by the good Father Zossima, only hopes to redeem his family members. We then find out that Fyodor probably fathered another son with a mentally disabled woman. This son is named Smerdyakov, and works as a servant in Fyodor's house. He also hates the old man.