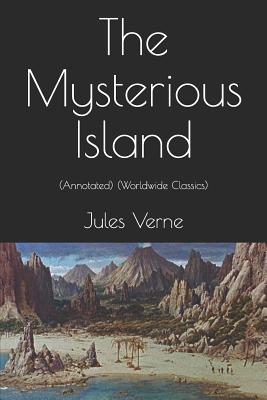 The Mysterious Island (Paperback)
(annotated) (Worldwide Classics)
Independently Published, 9781794252677, 376pp.
Publication Date: January 16, 2019
Other Editions of This Title:
Paperback (9/27/2019)
Paperback (10/31/2018)
Paperback (5/2/2016)
Paperback (5/27/2019)
Paperback (4/1/2019)
Paperback (10/25/2005)
Paperback (3/19/2017)
Paperback (10/9/2018)
Paperback (4/24/2019)
Paperback (2/1/2011)
Paperback (7/19/2013)
Paperback (2/7/2012)
Paperback (7/31/2018)
Paperback (10/13/2010)
Paperback (5/30/2017)
* Individual store prices may vary.
Description
The plot focuses on the adventures of five Americans on an uncharted island in the South Pacific. During the American Civil War, five northern prisoners of war decide to escape, during the siege of Richmond, Virginia, by hijacking a balloon.The escapees are Cyrus Smith, a railroad engineer in the Union army (named Cyrus Harding in Kingston's version); his ex-slave and loyal follower Neb (short for Nebuchadnezzar); Bonadventure Pencroff, a sailor (who is addressed only by his surname; in Kingston's translation, he is named Pencroft); his prot g and adopted son Harbert Brown (called Herbert in some translations); and the journalist Ged on Spilett (Gideon Spilett in English versions). The company is completed by Cyrus' dog "Top.