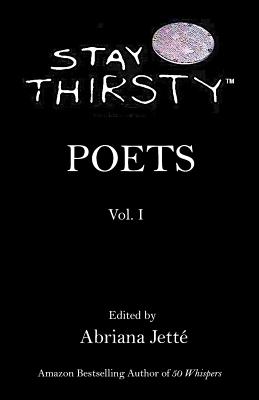 STAY THIRSTY POETS - Vol. I
Paperback

* Individual store prices may vary.
Description
INCLUDES 7 POEMS BY 2020 PULITZER PRIZE-WINNER JERICHO BROWN From the author of the Amazon #1 Bestseller in Women's Poetry Fifty Whispers - Poems By Extraordinary Women comes Stay Thirsty Poets - Vol. I, a unique anthology of poems by twenty-two of today's greatest and most talented poets, including Poets Laureate Billy Collins and Robert Pinsky, Pulitzer Prize-winner Paul Muldoon, Founder and Editor of The Best American Poetry Series David Lehman, National Book Critics Circle Award-winner Denise Duhamel, MacArthur Foundation Fellowship-awardee A.E. Stallings, American Book Award-winner Jericho Brown and more, who write about everything from loss to lust, from longing and homelessness to death, from engagement to pregnancy and from meditation to silence in poems that will transport you to other worlds, to other thoughts, to other perspectives on the nature of existence. This anthology entices you to share your time with unforgettable contemporary writers and to see life through their eyes, and includes poems by: Brianna Albers, Genevieve Betts, Duy Doan, Alexis Rhone Fancher, Sophie Grimes, Karen Paul Holmes, Tyler Mills, Sandra Murray, David Ishaya Osu, Jenny Sadre-Orafai, Wesley Rothman, Ki Russell, Nomi Stone, Emily Vizzo, and Mat Wenzel. "A brilliant and large-hearted collection." -- Rosanna Warren, multi-award-winning poet and author of Fables of the Self. Abriana Jett is the author of three prior poetry anthologies and is a regular columnist on emerging poetry for Stay Thirsty Magazine.
Independently Published, 9781795413299, 196pp.
Publication Date: February 11, 2019