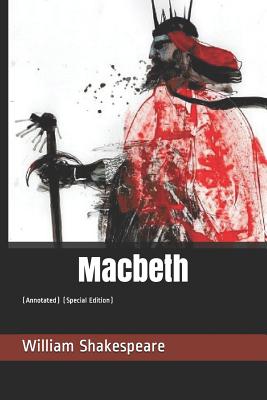 Macbeth
(annotated) (Special Edition)
Paperback

* Individual store prices may vary.
Other Editions of This Title:
Paperback (12/4/2012)
Paperback (9/5/2013)
Paperback (11/15/2017)
Paperback, Spanish (4/22/2014)
Paperback (1/7/2017)
Paperback (4/20/2019)
Paperback (6/8/2013)
Paperback (5/29/2010)
Paperback (2/11/2009)
Paperback (7/29/2015)
Paperback (2/12/2010)
Paperback, German (3/12/2013)
Paperback (5/7/2015)
Paperback (11/4/2018)
Paperback (5/20/2009)
Paperback (12/4/2012)
Paperback (5/20/2013)
Paperback (6/14/2015)
Paperback (4/6/2010)
Paperback (11/24/2011)
Description
The play opens amid thunder and lightning, and the Three Witches decide that their next meeting will be with Macbeth. In the following scene, a wounded sergeant reports to King Duncan of Scotland that his generals Macbeth, who is the Thane of Glamis, and Banquo have just defeated the allied forces of Norway and Ireland, who were led by the traitorous Macdonwald, and the Thane of Cawdor. Macbeth, the King's kinsman, is praised for his bravery and fighting prowess.In the following scene, Macbeth and Banquo discuss the weather and their victory. As they wander onto a heath, the Three Witches enter and greet them with prophecies. Though Banquo challenges them first, they address Macbeth, hailing him as "Thane of Glamis," "Thane of Cawdor," and that he will "be King hereafter." Macbeth appears to be stunned to silence. When Banquo asks of his own fortunes, the witches respond paradoxically, saying that he will be less than Macbeth, yet happier, less successful, yet more. He will father a line of kings, though he himself will not be one.
Independently Published, 9781795582681, 94pp.
Publication Date: January 31, 2019