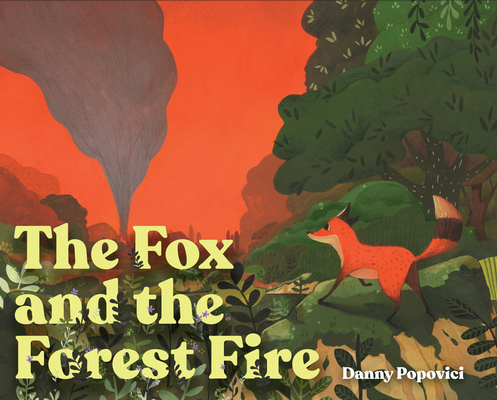 The Fox and the Forest Fire
Hardcover

* Individual store prices may vary.
Description
A story of hope and friendship, in which resilience trumps tragedy in the wake of a forest fire.

After moving from the city, one boy discovers his new home in the woods isn't so bad—there is friendship in the midst of the forest. But when he spots a fire on the horizon that soon engulfs everything he's come to know—the bugs, the plants, the fox who keeps him company—he is forced to flee. When his newfound comfort goes up in smoke, how can he ever feel at home again?

In a forest fire, so much can change in an instant. But both fox and boy learn that there are some things fire cannot burn. With time, the forest will regrow, the animals will return to their home, and so will the boy and his mom.

As we all search for tools for understanding the destruction of forest fires, this touching story shows that hope, friendship, and resilience shine the brightest.

TIMELY: As fires rage over a wider swath of the United States and internationally, and as fire season lengthens year after year, and sets new records year after year, these are themes communities are engaging with daily during fire season.

WRITTEN BY A FIREFIGHTER: The author-illustrator was a volunteer firefighter, giving him a unique perspective on the topic of forest fires.

EMOTIONALLY RESONANT: This moving story ends with rebuilding—both for humans and for nature—and with a truly uplifting message of resilience.

COMMUNITY-BUILDING: A wonderful resource for families and communities experiencing the aftermath of a fire or other natural disasters, as well as anyone looking to empathize with, and better understand, those communities in need.

CLASSROOM RESOURCE: Not only is this the perfect resource for talking about topics like the environment, natural disasters, forest management, and emergency preparedness, this book will also spark important conversations about coping with personal and community tragedies. The author-illustrator reflects on his own experiences with forest fires in the autho's note, and backmatter provides additional context.

Perfect for: Parents, Educators, Nature lovers
Praise For The Fox and the Forest Fire…
"[The Fox and the Forest Fire is a] sensitively told story of an all-too-common occurrence."—Kirkus Reviews

"This thoughtful picture book tackles the challenges humans and animals face when a natural disaster destroys their home. . . . Rich illustrations, often splashed across two-page spreads, immerse readers in the wonders of nature. . . . The comforting themes of renewal and rebuilding are expanded upon in the author's note . . . . This book will undoubtedly spark conversations about facing adversity, ecological awareness, and disaster preparedness. A timely topic is approached effectively for a young audience. A recommended purchase, especially as natural disasters become an increasingly frequent occurrence."-School Library Journal

"Popovici, a former forest firefighter, includes a note explaining that wildfires, though alarming, are important in maintaining natural ecosystems. . . . The gouache, watercolor, and colored-pencil illustrations are warm and wonderful, capturing moments of both coziness and concern, making a sweet introduction to a topical and potentially scary subject."-Booklist 
Chronicle Books, 9781797202822, 44pp.
Publication Date: August 24, 2021
About the Author
Danny Popovici is an author-illustrator, hiker, and former forest firefighter. He lives in Portland, Oregon.