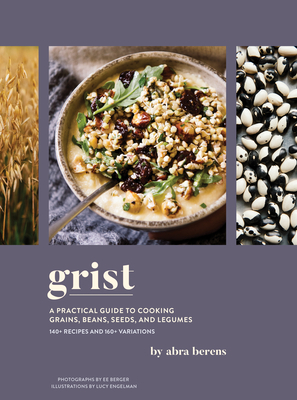 Grist
A Practical Guide to Cooking Grains, Beans, Seeds, and Legumes
Hardcover

* Individual store prices may vary.
Description
As featured in Epicurious, Modern Farmer, Refinery29, Shape, Plated, Eater, Food52, Midwest Living, Bon Appetit, MindBodyGreen, The Infatuation, Associated Press, On the Menu and NPR's The Splendid Table.

Make grains the easiest, healthiest, and most exciting stars on your table.

Grist is the only grain and legume cookbook you need. Abra Berens, a James Beard semifinalist for Outstanding Chef: Great Lakes and the author of Ruffage, shares more than 300 recipes and variations, plus substantial reference information to help you discover the next great grain.

Grist includes more than 125 recipes for 29 different types of grains, legumes, and seeds that, in combination with vegetables and lean proteins, are the stars of the healthiest, most variable, and most satisfying meals—many of them gluten free.

New and seasoned home cooks will want to reference this guide to start building a repertoire of approachable, big-on-flavor recipes. Home cooks will be attracted to the reference quality of the book, its beauty (more than 100 photos and 30 illustrations) and heft (125 recipes + 300 variations = 448 pages), as well as the great writing, relatable voice, author authority, unique recipe style, extensive variations, and gorgeous photography and illustrations.

THIS IS THE A TO Z OF GRAINS, BEANS, AND LEGUMES: The content is deep and authoritative, but also wide-ranging, with information and recipes for 29 different grains, legumes, and seeds: Amaranth, Barley, Black-Eyed Peas, Buckwheat, Bulgur, Chickpeas, Common Beans, Corn, Cowpeas, Crowder Peas, Farro, Fava Beans, Field Peas, Fonio, Freekeh, Legumes, Lentils, Lima Beans, Millet, Oats, Quinoa, Rice, Sorghum, Split Peas, Soy Beans, Teff, Tiny Seed Grains, and Wheat Berries.

REFERENCE BOOK: Organized by type of grain/legume/seed, each chapter offers authoritative info and tips that home cooks can use to deepen their knowledge of ingredients and broaden their repertoire of techniques. The recipes are simple, are generally quick to prepare, and use ingredients that are easy to find or often already in people's pantries.

FOLLOW UP ON SUCCESS: Ruffage by Abra Berens was named a Best Cookbook for Spring 2019 by the New York Times and Bon Appétit, was a 2019 Michigan Notable Book winner, and was nominated for a 2019 James Beard Award. Here's some strong praise for Ruffage:

"Things in my kitchen have changed since Ruffage arrived. This organized, easygoing guide to 29 vegetables offers a few cooking methods for each one, supplemented by several variations." —Kim Severson, New York Times

"[RUFFAGE] is a total classic in the making."—Christina Chaey, associate editor, Bon Appétit

"Crammed with exciting ideas that encourage creativity, this lively book will quickly become an essential item in the home cook's library."—Library Journal (starred review)
Praise For Grist: A Practical Guide to Cooking Grains, Beans, Seeds, and Legumes…
"Spanning nearly 450 pages, Grist features 125 recipes and twice as many variations on those, plus a great glossary and cheat sheet to get you started." -Epicurious

"Berens encourages readers to start with ingredients they're excited about ... Interspersed features highlight working farmers and their areas of specialty, serving to illustrate issues that inform Berens' ethics and worldview."-Booklist?

"In this highly informative work, chef Berens (Ruffage) showcases the potential of cooking with grains and legumes ... Woven throughout are essays and farmer interviews that present a strong case for increasing the role of grains and legumes in the global food system. The result is a definitive guide rich with flavor and inspiration."—Publishers Weekly, starred review

"A thorough A to Z of grains, beans, seeds, and legumes, Grist is based on the philosophy that great cooking comes from working with ingredients you're excited about."-Eater

"Berens strolls through each category with representative methods (such as boiled, fried, sprouted) with an eye toward variety and versatility over 125 recipes."-Chicago Reader
Chronicle Books, 9781797207131, 464pp.
Publication Date: October 26, 2021
About the Author
Abra Berens is a Michigan chef, author, and former farmer. Through every recipe written and meal served, she aims to tighten the connection between eaters and growers. She believes we can invest in a stronger, more equitable food system for everyone, from producers to grocers to consumers. Her cookbook Ruffage: A Practice Guide to Vegetables was a 2019 Michigan Notable Book winner and James Beard Award nominee. Her dinners at Granor Farm in Three Oaks, Michigan, made her a James Beard semifinalist for Outstanding Chef: Great Lakes.

Lucy Engelman is an illustrator who puts pen to paper in Pittsburgh, PA.

EE Berger is a Detroit-based photographer focused on food, lifestyle, product, and portrait work.